Earlier this year, when reviewing Elements, I mentioned that I've been on a quest to find the best text editing application for my iPhone and iPad. I've long been a fan of Hog Bay Software's WriteRoom on my Mac and iPhone, so I was extremely pleased when Hog Bay released PlainText, a free, ad-supported text editing app that links and syncs with Dropbox.com. (You can remove the ads by paying $5 via an in-app purchase in PlainText.)
As the name implies, PlainText is a basic text editing app that offers up a tiny, but useful feature set using a minimalist interface that I found to be just about perfect. PlainText uses a clean, paper-like background with 18-point Georgia text, giving it a very nice look that's easy on the eyes no matter whether you're reading or writing.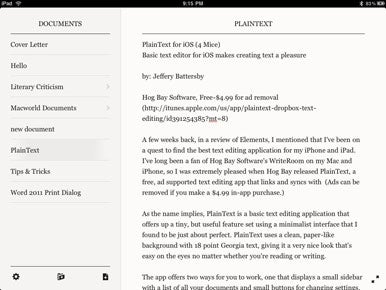 On the iPad, the app offers two ways for you to work, one that displays a small sidebar with a list of all your documents and small buttons for changing settings, or creating new folders and documents. The other is a full-screen mode that hides the documents sidebar and displays your text in the middle of the page. In both cases, the app maintains a text "window" that is roughly 70 to 75 characters wide, except when you're working in portrait mode with the sidebar displayed. Overall the width of the text seemed perfect, but working in portrait mode with the sidebar open felt a bit cramped—akin to writing on a sheet of 8 1/2-by-11 paper that's been cut in half vertically.
One of PlainText's most appealing features is its ability to link with your Dropbox account. PlaintText constantly syncs your changes in the background or when you close the app. Like almost every app I've seen that links with Dropbox, you can't navigate your existing Dropbox folder structure from within the app, and in order to work properly, PlainText needs to create its own PlainText folder at the root of your Dropbox account. Within that folder, you can create other folders within which to organize your writing but, unfortunately, you can't move your files around within PlainText, in order to organize your documents you need to use the Finder.
PlainText offers some other useful features, including integration with Smile's TextExpander, which gives you the ability to type short snippets of text and have them expand to any number of user-customized pieces of text. There's also a word and character count feature, although at first, it wasn't obvious how to find it, so I had to send an e-mail to the developer to figure it out. Word count displays when you hold your finger on the screen as you would to select text. When you do the current word count for the document or selected text, it will display along with the cut, copy, and paste buttons. Tapping that word count button displays more detailed information about the document, including character and paragraph counts. What PlainText lacks is an option to e-mail a document from within the app, a feature that developer Jesse Grosjean says is in the works for a future release.
Like all of Hog Bay Software's apps, PlainText for iOS is a beautiful and thoughtfully designed tool created for a specific purpose and which makes creating basic text documents a real pleasure. In fact, I wrote this entire review using the app without once wishing that I was using something else.
[Jeffery Battersby is an Apple Certified Trainer, (very) smalltime actor, and regular contributor to Macworld. He writes about Macs and more at his blog.]