Users interested in giving Pulse News Reader a whirl can now do so without opening their wallets—on Monday, developer Alphonso Labs announced that the app will now be available for free on the App Store.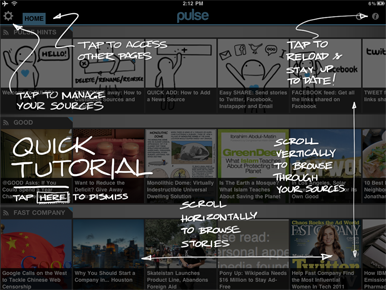 This change was preemptively revealed Sunday by The New York Times, which additionally noted that Alphonso Labs had raised over $800,000 in venture capital for the magazine-style RSS reader.
Pulse offers a graphical look at RSS feeds on the iPad, allowing users to quickly scan through the day's headlines and thumbnails for interesting stories. Originally available on the App Store for $4, then $1, the cost was presumably reduced to widen the app's user base. The Times article additionally highlighted the company's wish to move away from a paid app business model, and instead make deals with advertisers and content producers.
In the past, the company has made content deals with publications (the Times article specifically mentions the Huffintgon Post) for more prominent photographs and full-length articles in-app, though whether it will continue to follow this kind of business model or move toward a more traditional advertising route remains to be seen. As of now, however, Pulse remains ad-free.
Unfortunately, it doesn't look like users who previously paid for the app will be getting any sort of reprieve from potential advertising. TUAW received a rather vague statement from Alphonso Labs on the matter, which thanks early adopters for providing the "resources to build a company dedicated to improving their news reading experience."
Pulse is available on the App Store for free and requires an iPad running iOS 3.2 or later.