If you like Foursquare, you probably will love Scvngr. There's only one real flaw in the free social-networking app from Scvngr Inc.: Not enough people are using it. That's not just a business challenge for the app's developers—it's also an impediment to users, one keeping Scvngr from reaching its full potential.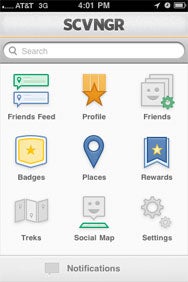 Like Foursquare, Scvngr encourages users to explore their cities, "checking in" at local landmarks, broadcasting their location to the world via Twitter and Facebook, and offering in-app rewards—"badges" in the case of Scvngr—for repeated trips to neighborhood bars and other area businesses. Scvngr even offers iPhone-based coupons for some businesses in its list.
But Scvngr expands the concept's game-playing element, offering location-specific scavenger-hunt-style challenges. At Philadelphia's Tenstone Inn, a local watering hole, the app challenges users to get photographs of their meal to share with other Scvngr devotees.
The app is also strong at integrating other social networking functions. Foursquare may be famous for the constant Twitter updates from its users, but Scvngr more easily lets its users connect in the app to that service and to Facebook to broadcast their location. That integration goes both ways: Scvngr users can use the app to monitor where their friends are checking in using Facebook Places, as well. Users can also do a "social check-in" by bumping phones with a fellow Scvngr user at the same location, earning points and promoting real-world connections. They can also award points to fellow users who have responded creatively to common challenges.
These features are so fun and powerful that if Scvngr and Foursquare had been launched at the same time, side-by-side, Scvngr might have the advantage.
Fair or not, though, Foursquare does have the head start, and it makes a real difference in the quality of the app experience. I tested Scvngr alongside Foursquare in my not-remote Philadelphia neighborhood. On Foursquare, I was one of more than 100 people who had checked in at a nearby, much-used park. On Scvngr, I was the only one. Part of the thrill of becoming "mayor" of your favorite bar on Foursquare is that there's competition from other users for the title. With few or no competitors for some of the otherwise-popular locations in a big city like Philadelphia, the Scvngr experience feels thin and underpopulated.
That's not a fatal flaw, but it is a big challenge for Scvngr to overcome. Social networking apps require, well, large networks of users to thrive. The Scvngr experience will greatly improve when—and if—it attracts those users. And to be fair, the app absolutely deserves those users. Scvngr is a great-looking, fun, and easy-to-use app that's just waiting for an audience to come along and fill it up.
[Joel Mathis is a freelance journalist and political columnist for Scripps Howard News Service. He lives in Philadelphia.]