Yahoo Sportacular Pro is the paid version of Yahoo Sportacular, a popular sports application which Yahoo acquired when it purchased apps developer Citizen Sports in March. There's little to distinguish the $2 Pro version from the free edition of Sportacular, which means the apps share similar strengths—and weaknesses.
Sportacular's biggest strength is its inclusion of all major North American sports leagues and even international leagues like England's Premiership and Spain's La Liga.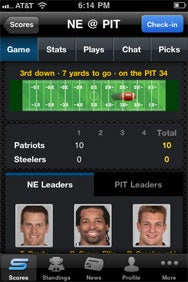 The application also offers fans plenty of notification options including notifications of when games start, in-game scoring updates and even final scores. Fans can also play a simply "pick 'em" game with other users and even talk to other fans through the app's native Facebook integration.
But Sportacular suffers from a major weakness that has doomed many an athlete—it's just too slow. The spinning "loading" icon was a constant presence during testing, even while using my own Wi-Fi network. League wide scoreboards and individual box scores both loaded slowly. It took a full 10 seconds for the NHL standings page to load while using AT&T's 3G network at a local coffee shop.
And sometimes, scores won't load at all. My colleague Philip Michaels has been an enthusiastic fan of the free version of Sportacular, but he tells me that he often has trouble getting Sportacular to load up scores, particularly since the release of the 2.0 version of the app. Phil mentioned that the app has become so bloated in recent iterations that he uses it less frequently than ever before, turning instead to ESPN ScoreCenter. That app may have its issues, but consistent loading is not one of them.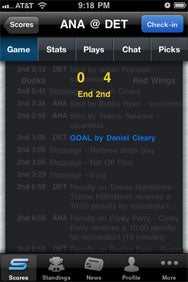 Sportacular's problems don't end with load times. The app offers two curious visual design decisions. First, I find live scores difficult to read at times. While most of the application uses white text on a black background, which is easy to read, some box scores—such as hockey—showed scores floating above the play-by-play text, making everything difficult to read.
Sportacular's other weakness involves the stories from the Yahoo Website. They appear in an in-app browser, requiring you to pinch-and-zoom to get a closer look at the text. Putting the stories in plain text would have been much more user-friendly.
Apps which offer fans the latest scores and breaking news are a dime a dozen in the App Store—any one of a number of apps can give users a quick check of the scores from their iPhone or iPod touch. The notifications in both versions of Sportacular help it stand out from the crowd, though not enough to justify the paid edition's price tag. And the general slowness of the app has diminished our enthusiasm for a free version that's become too bloated in recent months.
[Macworld contributor Brendan Wilhide covers the sports industry and social media on Sportsin140.com.]