When you've got a mobile software store that offers more than a quarter-of-a-million apps, you're bound to have some offerings that not offer similar features but also sport nearly identical names. Take the case of Advanced English Dictionary and Thesaurus from Mobile Systems and Advanced English Dictionary & Thesaurus from jDictionary Mobile. Both are iOS apps that deliver dictionary features to your iOS device. But is there anything separating the two? I mean, other than that ampersand in the latter app's name? To find out, I took both dictionary offerings out for a test drive.
Mobile Systems's app—the ampersand-free Advanced English Dictionary and Thesaurus—brings WordNet, Princeton University's 1.4 million-word lexical database, to the iPhone, iPod touch, and iPad. Optimized for all of Apple's iOS devices, the app is more than its name suggests, as it also includes a variety of word search options and encyclopedia functions. The Mobile Systems app performs its named duties well, but its add-ons leave some to be desired.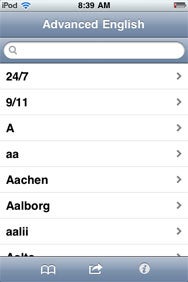 When you first open the Mobile Systems app, you see, from the near top to the total bottom of your screen, a list of words in alphabetical order, along with a search bar at the very top of your screen. You can either scroll through that word list or use the search field to look up a word's definition.
Besides a general search, the search bar offers three other ways to find a word's definition. You can do a Keyword search, which finds all the words that have your word as a root; a Fuzzy search, which finds all the words that sound like your word; and a Wild Card search, which finds any world remotely similar to yours (though I could never get that last search to work).
When you find your desired word, the app will show you the word's definitions, words related to it, and similar words (which makes up the app's thesaurus function). Each similar or related word has a link to its own definition. I would love to see a recorded phonetic spelling of each word, but I figure it would add to the cost of the Mobile Systems app.
You can search for information on phrases or proper nouns in the Mobile Systems Advanced English Dictionary app. However, I found that the app has a limited database when it comes to such things. I typed in "Benjamin Franklin" only to get an article about the "Benjamin Franklin Bridge" in Delaware. There are articles on Pope Benedict XIV and XV, but nothing on the other Pope Benedicts. As an encyclopedia, Mobile Systems's app is very limited.
Advanced English Dictionary offers a Word of the Day function, as well as a Random word finder function. If you're hoping to expand your vocabulary, neither feature is a bad option, though they seem rather duplicative to me.
As a free app, Advanced English Dictionary and Thesaurus from Mobile Systems gives you another reason to dispense with your print dictionary and thesaurus in favor of a functional digital offering. Its named features are done well, its search options are mostly viable, and its add-ons are non-obtrusive.
Let's turn our attention, to the other similarly named dictionary app, jDictionary Mobile's Advanced English Dictionary & Thesaurus (AEDT) for the iPhone. A dictionary/thesaurus combo with a library of 1.6 million words, there's more to jDictionary Mobile's offering than its name might lead you to believe.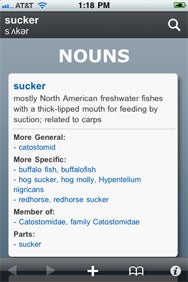 Launch jDictionary Mobile's app and you'll see a title sequence surrounded by a gray background. Above the title sequence, on the top right of your screen, you'll find a magnifying glass. Tap the magnifier and you'll head to a list of all the dictionary's words and a search bar. You can scroll through all the words, or use the search bar to do a definition search.
Search results show not only your word, but all the words spelled like it. Tap your desired word and you will get a list of all its definitions. You will also get a list of words that are similarly defined—the app's thesaurus functionality. Each word in the thesaurus section is a link to its own definition.
If, while reading a word's definition, you decide you want to add the word to your lexicon, press the plus button at the bottom center of your screen to add the word to your bookmarks. The bookmark library button, which takes the form of an open book, is to the right of the plus button. You can tap on the bookmark button at anytime to review your favorite words.
I noticed that the app's word list includes a lot of proper nouns, so it appears the app is also a small encyclopedia. I can't tell you the extent of the app's encyclopedia database, but I can tell you that when I typed in "Ben Franklin" and "San Francisco" into AEDT's search bar, I was pleased to find information on both—though not much information.
In each encyclopedia entry, there are sections called "Part of" and "Parts." These sections link you to similar encyclopedia entries. Lets say you type in San Francisco into the word database. In the San Francisco entry, you'll find that it is "Part of" the entries for California, Golden State, CA or Calif. You'll find that its "Parts" include entries on the Golden Gate Bridge, Nob Hill, and the San Francisco Bay.
Advanced English Dictionary & Thesaurus does a good job at what it's supposed to do: define words. I am rather pleased with its incredibly intuitive interface. If a word has multiple definitions, the app does a great job at separating the definitions as to not make them seem cluttered. The word link functions included in the thesaurus, parts of and parts sections of entries are incredibly helpful to getting the whole story of a word or encyclopedia entry. My one complaint with the app is that in order to increase entry font size, you have to go your iPhone's setting's menu, click on the app's icon, and then increase the size. It would be less complicated if you could just use hand gestures. Still, jDictionary Mobile's app performs well.
There are some subtle differences between these two solid dictionary apps: Advanced English Dictionary and Thesaurus from Mobile Systems is free and optimized for both the iPhone and iPad. jDictionary Mobile's Advanced English Dictionary & Thesaurus costs $1 and has just been optimized for the iPhone. But its superior biographical and geographical data and its pleasing interface gives jDictionary Mobile's offering a slight edge, at least for me.
[Sam Felsing is an editorial intern for Macworld.]