A great text-to-speech engine suits every user's needs. And that's a pretty fair description of what Future Apps offers in its hybrid Speak It text-to-speech app.
Combined with copy-and-paste and iOS 4's multitasking ability, Speak It makes this sort of technology a viable solution for anything from reading articles out loud on the go to creating a stock of recorded messages for use in making announcements or general communication. The app, optimized for both the iPhone and the iPad, only offers multitasking for devices running iOS 4. Note, however, that FutureApps says that version 2.5 of Speak It offers support for the iOS 4.2 release when that update arrives this month.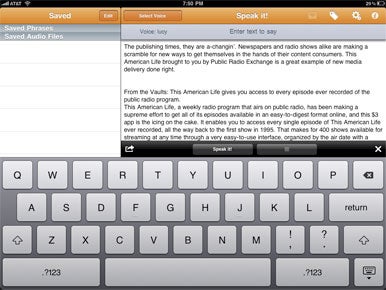 Otherwise, Speak It operates in the exact same manner no matter the device you use. You type text into a field, and tell the app to read back what you've written. More significantly, you can also paste copied text into that field—say, from an e-mail or from a Web page—and Speak It reads everything back. The app's input box takes a fairly decent amount of text and accepted all of the articles I pasted into it.
You have four voice options for playback by default-a male and female voice with British and American accents. A Speak It Store gives you the option to buy alternate American and British voices, as well as Spanish, French, German, Italian, French Canadian and other recently added offerings.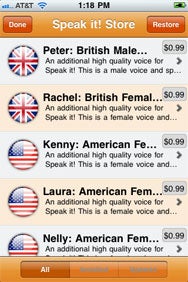 After you type or paste in your text, you have a couple of options. You can have the app read it out loud in the selected voice, save the text for later, or create an audio file from the reading that you can send via e-mail.
Speak It covers all the bases when it comes to usability. You can adjust the text size, reading volume, and playback speed. The app makes excellent use of screen real estate (especially on the iPad), and all of the different voices available ensure that the user can find output to suit their needs. The ability to run this app in the background makes it a great tool to catch up on the news or use during a commute. When it comes to text-to-speech engines this application really has everything it could offer within iOS 4 and provides a fairly broad spectrum of flexibility for all sorts of uses.
[Rob de la Cretaz is a full-time polymath and a proud resident of Pittsburgh.]