Microsoft PowerPoint 2011— like its sibling, Microsoft Word 2011—uses a custom print dialog that differs from the standard Mac OS X print dialog. Despite that, the differences between PowerPoint's printer options and that of the OS are not nearly as confusing and wide-ranging as those of the word processor.
If you intend to print slides, you might want to first make a stop at PowerPoint's Page Setup dialog, where you can specify the format of your slides. For example, the Slides sized for popup menu gives you a wide variety of preset paper and other media options, as well as the opportunity to set up custom measurements. You can choose the orientation you prefer, keeping in mind that all slides will have the same orientation, but that printed Notes, handouts and outlines can have a different orientation than printed slides.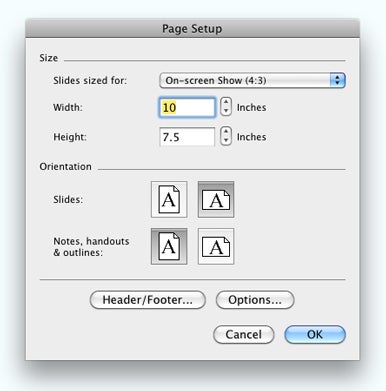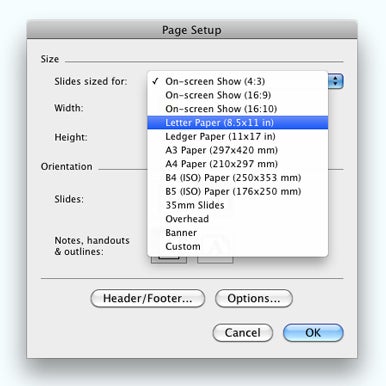 Beyond that, almost all of PowerPoint's print options can be found within the main Copies & Pages menu of the print dialog. From this menu, PowerPoint lets you select the number of copies you want to print, choose whether to print all the slides in your deck or a specific page range. In order to print a unique selection of slides (say, slides 1, 3, 7, 9, and 10-13) in PowerPoint, you must select the slides you want to print before you issue the Print command from the File menu. So for example, if you want to print the selection noted above, you'll need to command-click the thumbnail of every slide you want to print in the left pane of PowerPoint's slide editing window, then select Print from the File menu and then click the radio button in the print dialog that says Selected Slides.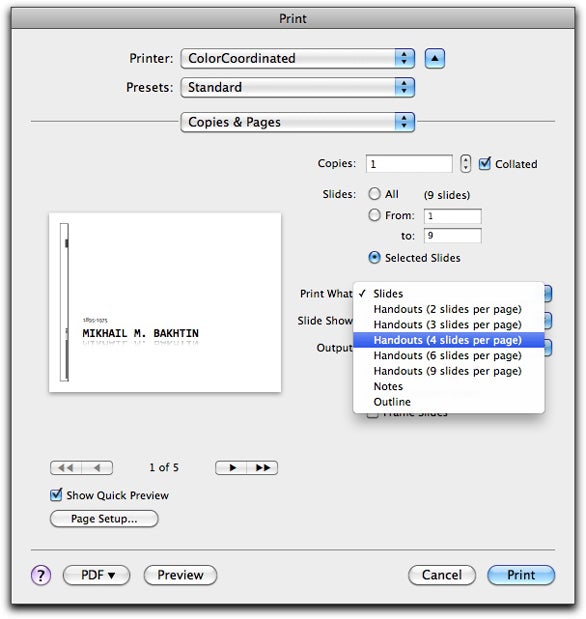 PowerPoint's Print What: menu offers you several options for slide output. Selecting the default Slides option from this menu prints a complete, full-sized set of slides. Selecting Handouts gives you the option of printing 2, 3, 4, 6, or 9 slides per page. The 3-per-page option also prints several lines next to each slide so it's easy for people to take notes as they follow your presentation. Using this menu also gives you a choice of printing one slide per page with your personal notes printed below them or printing an outline of all the slides in your presentation.
The print dialog's Output menu lets you choose whether you want to print full color slides, grayscale slides, or black and white slides and three small check boxes below these menus provide options for scaling your slides to fit the paper you're printing on, print any slides that you may have hidden, and print a small border around all your slides.
Finally, just like Word, when you select Summary from PowerPoint's Copies & Pages menu, you can see a summary of all the print options you selected before you print your slides.
[Jeffery Battersby is an Apple Certified Trainer, (very) smalltime actor, and regular contributor to Macworld. He writes about Macs and more at his blog.]