On Thursday, Orb Networks introduced the Orb TV, a $99 video player for streaming content from free online sources such as Hulu, via Netflix, and directly from your computer.
The Orb TV occupies an interesting place in the networked video player world. It borrows features from the Apple TV, the D-Link Boxee Box, and Roku's players. Yet unlike any of the other similar products out there, it has no on-screen display—all navigation and control is done via an app on your iOS or Android device. And, unlike the competition, it doesn't support HD output. In fact, it transcodes all video to 720 by 480, the same as standard DVDs, using the free FFmpeg.
I got a chance to play with the Orb TV for a few days before Thursday's launch, and here are some of my impressions.
Setup
I started by installing the Orb Caster server software (you'll need OS X 10.5.1 or later and a 2.4GHz Intel Core 2 Duo or faster processor). The wizard walked me through the setup process, letting me name my Orb TV while connected to my Mac via the included USB cable, and then add it to my wireless network. There was also an option to have it look in my iTunes library for content, or in a specific folder, although it turns out you can select both options at the same time (I picked the default iTunes option, but later in the process added extra folders).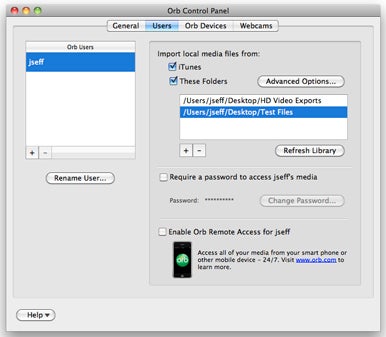 After that I connected the USB cable to the power adapter, and plugged in the included component video breakout cable (it also comes with a composite cable) to the video-out port, and the included Y-cable for analog stereo to the audio-out port. I then hooked everything up to an HDTV.
The audio and video cables are nice and long, but the USB cable isn't, which made it hard for me to plug the AC adapter into the plug strip behind my TV—I actually had to place the Orb TV on the floor. But because you control it exclusively via Wi-Fi on your smartphone (the Orb TV supports 802.11g and n), that wasn't too much of a problem.
I then downloaded the Orb Controller app to my iPhone, and the Orb Caster software indexed the media in my iTunes library. I have a pretty large iTunes library, and it took about 18 minutes to finish indexing on my 3.06GHz iMac.
Hulu
Much of the free video content comes from the ad-laden Hulu (there's no Hulu Plus support right now), as well as ESPN3, Comedy Central, YouTube, and Dailymotion.
If you've kept up with the news in the world of networked video players, you know that Hulu blocks pretty much every non-computer device from playing its browser-based content. Orb gets around the restriction by streaming the content to your computer and sending it to the Orb TV, instead of streaming directly from the Internet.
You can browse content by popular shows or by genre, or you can search for specific shows. I must admit, it's an interesting concept to bring together multiple sources of free streaming programming and make it relatively simple for people to find shows. And I definitely prefer watching TV shows on my HDTV over watching them on my computer. And in my testing, some shows played just fine, although many took quite a while to get going, and the time slider displayed seconds elapsing even when no video was playing (it also doesn't give you any indication of how much time is left, but that's another issue).
Unfortunately, some shows froze up during the pre-roll commercials, or simply didn't play at all. Orb told me that there are problems with playing some content properly, and so the device may just not play it.
An episode of Arrested Development I tried played very nicely, while a Futurama recap clip was jittery and looked like it was displayed at an extremely low frame rate (viewing the same clip in Safari on my Mac was much better). And speaking of Futurama, a visit to Hulu's Futurama page on my Mac showed me a message near the top that read "Full episodes are not available for online streaming at this time." Using the Orb Controller app, there were six entries for the individual seasons, but the only way to know what was available in each (this goes for other shows as well) was to tap on each season number and then get a "We're sorry, that season is not currently available" pop-up message on my iPhone.
Also, while trying to view an episode of It's Always Sunny in Philadelphia, the Hulu interface informed me that it was for mature audiences, and I needed to log into my Hulu account to view it—which isn't possible to do with the iPhone app.
Netflix
Like most other set-top boxes and many other devices these days, the Orb TV can also play Netflix Watch Instantly streaming content if you have a Netflix account. Once authorized, I could view my instant queue as well as search for and watch streaming content.
However, I found the performance and video quality lacking when compared to those of my new Apple TV or my Blu-ray player. Since even with component video output the Orb TV converts everything to a standard definition signal, you can't watch available Netflix content in HD.
And when trying to watch the TV show 30 Rock I discovered that there's no way to choose individual episodes from a season. It just started playing the first episode and offered no way to see or select the others. Every other Netflix-enabled device I've used gives me that capability.
Local video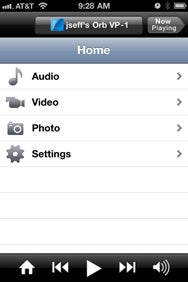 Perhaps the area in which I had the most success was playing local video content from my iTunes library and in specific folders on my Mac. I was able to play HD MKV files, 720p HD movies exported from iMovie, AVI files, and more, with minimal fuss.
Like other non-Apple hardware, you can't use the Orb TV to play downloaded video content from the iTunes Store. If you try to play a protected m4v file, the interface on iOS app makes it appear to be playing, but nothing happens. (It's less of an issue with music, since Apple has stopped using DRM on songs, but any non-upgraded DRM-saddled tracks also won't play.) Orb says it's Investigating ways to exclude those files from showing up.
Music and photos
In addition to video, the Orb TV also performs the functions of the $69 Orb Music Player. So you can listen to your music on your TV, and you can view photos and photo slideshows as well. In my testing, photos worked better when played from a folder, but the software was able to dig into the contents of my iPhoto and Aperture libraries (although Aperture isn't natively supported) enough to let me view images. But the experience was nothing like on the Apple TV.
Final thoughts
To put it bluntly, the Orb TV isn't ready for prime time. As a Netflix streamer, it falls short when compared to all other devices I've tried. Its ability to let you watch Hulu content on your TV is very nice in theory, but in practice it was unreliable and often frustrating. One thing it does fairly well that the Apple TV can't is play a wide variety of file types.
Hopefully Orb will make improvements to its Orb Caster server software that will in turn make the Orb TV a better product. It's an interesting concept, so I hope the company can improve on the experience.