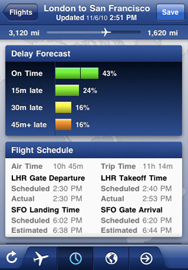 Flying—whether we like to admit it or not—is stressful. Thankfully, a variety of apps can help alleviate some of the pressures. One popular option, Mobiata's FlightTrack Pro, allows users to schedule and map flights; version 4.0, released Monday, adds a slew of new features dedicated to helping the world-weary power traveler or vacationing couple.
The new iteration of the universal app sports a refinished user interface, with crisper graphics and larger, better organized menus. Each flight you look up now has a variety of options associated with it; in addition to the older departure/arrival board, airport weather report, and FAA information, the app has added terminal maps, access to the airport's full departures/arrival board (an in-app purchase of $4), a revamped graph of historical days, full flight schedule, and a seat map—so you know just how many inches of legroom you're being squeezed into.
The app also sports sync with TripIt, push alerts, speed and altitude tracking, flight notes, alternate flight search, and an online/offline flight tracker featuring satellite Google Maps. FlightTrack Pro is available in the App Store for $10—if you're looking for something more inexpensive, its sync-less, push-less cousin, FlightTrack, is available for $4. Both require any iOS device running 3.0 or later.