If you're fed up with excessively loud TV commercials or inconsistent volume between different channels, the GefenTV Auto Volume Stabilizer with Digital Audio Decoder (AVSDAD) could be for you. The device, made by home-theater accessory-maker Gefen, stabilizes your TV's audio signal, letting you enjoy a consistent volume level while you channel surf.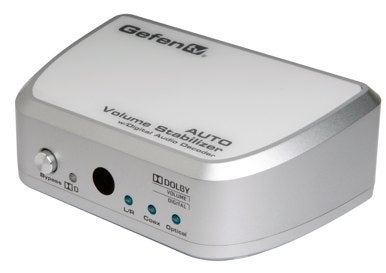 The $229 AVSDAD offers the same functionality as the company's Auto Volume Stabilizer, while adding digital to analog audio decoding for better compatibility with stereo systems. It uses Dolby Volume technology to eliminate noticeable volume spikes and drops, which should end your days of suffering through obnoxiously loud commercials or ear-splitting on-screen gunshots and explosions.
The device provides audio inputs and outputs for digital (TOSlink, S/PDIF) and analog (L/R) formats; surround sound systems using Dolby 5.1 are supported as well. The audio stabilizer works automatically, but a bypass button is also included for when the function isn't needed.
GefenTV Auto Volume Stabilizer w/ Digital Audio Decoder