Chronos, makers of a variety of Mac and iPhone apps, recently released a pair of notable updates to SOHO Labels and Organizer, two of its flagship products.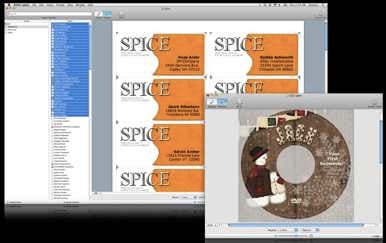 SOHO Labels 5 is the more significant of the two updates, as Chronos brought over a number of features that debuted in its other products, including SOHO Business Cards 3 and iScrapbook 3. These include a Cover Flow browser for graphic iScrapKits and a new Smart Template system with more than 300 templates to get you started. The placeholders in Chronos's new templates get that "smart" designation because they know what kind of content they should contain—if you double-click a paper placeholder, for example, SOHO Labels will open the paper browser.
Also new in SOHO Labels 5 is a more useful font preview system, a Trim to Label feature for more accurate previews, automatic image resizing, 23 new iScrapKits, and more. A free 30-day demo that requires Mac OS X Leopard 10.5.8 is available; a new single license costs $40 and a family pack of five licenses is $70. Owners of any previous version can upgrade for $25.
SOHO Organizer 8.5 also got some update attention—it now supports Apple's recently revamped MobileMe Calendar Web app. Apple launched its calendar beta in July and released the update for all members last month; the new version of MobileMe's calendar is built on CalDAV, with an emphasis on sharing and collaborating with others. SOHO Organizer 8.5 now has full support for the new MobileMe Calendar, so you can get back to scheduling events and striking off tasks and they'll sync back to MobileMe and your other devices.
SOHO Organizer 8.5 is free to existing owners of version 8.x. A 30-day demo that requires Mac OS X Leopard 10.5.8 is available to new users, and a single license costs $99, while a family five-pack is $180. Existing owners of any previous version can upgrade for $50.