Data Robotics, best known for the Drobo range of storage solutions, has announced Drobo Sync, billed as the world's easiest-to-use remote backup for small and medium-sized businesses.
Additionally Drobo has introduced the second generation of the Drobo S, which the company claims to be an "industry first" with support for USB 3.0 and up to five hard drives. The company says that the Drobo S is up to 10 times faster than existing USB 2.0 solutions, while remaining backwards compatible to support USB 2.0 devices. (Macs have yet to natively support USB 3.0.)
"When USB 3.0 was released, many storage vendors simply added a basic connector to their systems, but that precluded small and medium-sized businesses from taking full advantage of its promise," said Mark Peters, senior analyst, Enterprise Strategy Group. "In contrast, by specifically engineering the Drobo S to incorporate USB 3.0, Drobo has been able to optimize performance and ease-of-use, both of which being characteristics that such businesses will appreciate."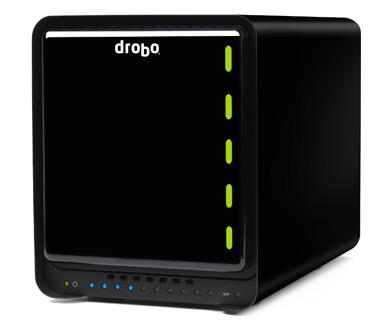 Drobo Sync meanwhile, can be configured in a few minutes with simple mouse clicks, and is included free with all new DroboPro FS models to provide users with a cost-effective alternative to cloud-based solutions for backing up terabytes of data.
The Drobo S is available now starting at $799 for a Drobo S without hard drives. The company offers a 10TB Drobo S with five 2GB Western Digital hard drives for $1799, a 7.5TB Drobo S with five 1.5TB Western Digital hard drives for $1549, and a 5TB Drobo S with five 1TB Western Digital hard drives for $1299. System requirements are Mac OS X 10.5 or later, Windows 2008 Server, Windows 2003 Server, Windows XP, Windows Vista, Windows 7, or Linux. File system formats supported are NTFS, HFS+, FAT32 and EXT3.
Drobo Sync is included for free with the purchase of any new DroboPro FS and is available as a free software upgrade to existing DroboPro FS customers.
Drobo S 2nd Generation USB 3.0 10TB
Drobo S 2nd Generation USB 3.0 5TB
Drobo S 2nd Generation USB 3.0 7.5TB
Drobo S 2nd Generation USB 3.0 (no drives)