Mozy has announced Mozy 2.0 for Mac, a major upgrade to the company's subscription-based online backup service. Mozy 2.0 brings performance and stability improvements, as well as an interface redesign that makes it easier and faster to run, monitor, and restore backups.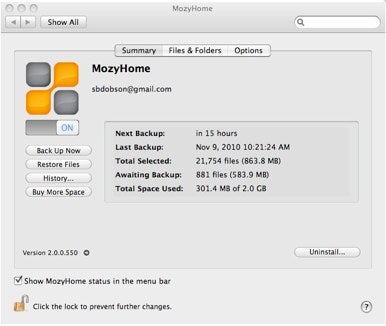 Mozy makes regularly scheduled backups of your data to its secure online servers, keeping all of your data safe in "the cloud" and away from hazards like theft, individual hard drive failure, or floods. After the initial backup, Mozy makes incremental backups of new or changed portions of files, much like Apple's Time Machine does.
Mozy 2.0 for Mac brings a number of the enhanced features and functionality of its Windows counterpart to Mac users, including faster upload speeds generated by optimized bandwidth usage and quicker file scanning.
Mozy's interface has received a facelift that should make Mac users feel right at home. Also, its backup process is now more transparent, with more information available to the user about which files are being backed up.
Mozy 2.0 comes in two flavors: MozyHome, aimed at the home user, and MozyPro, designed for business servers. The software—which runs on OS X 10.4 or higher—is available as a free download, but you must pay a monthly subscription fee for your online backups. MozyHome is $5 per month with unlimited storage. With MozyPro, licenses for each desktop computer you wish to back up costs $4 per month + $.50/GB per month, while a server license costs $7 per month + $.50/GB per month.