In its quest to eliminate business cards from the wallets and Rolodexes of iPhone users the world over, Penpower Technology has released an update to its WorldCard Mobile business-card-scanning application for iOS devices. The update adds a new organizational feature called the Card Holder as well as new saving options.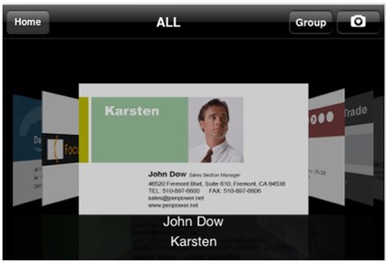 WorldCard Mobile uses Optical Character Recognition (OCR) technology to instantly transfer information from business cards to your native iPhone contacts. Just snap a photo of the business card with your iPhone's camera, and the app intelligently identifies and copies the relevant contact information straight into your contacts.
The version 3.0 update for WorldCard gives the app a new Card Holder function for viewing and managing contact info. Card Holder lets you create contact groups—like school, work, family, etc.—for easier navigation and organization; it also lets you browse through your contacts in a Cover Flow view. Other new features include the ability to save front and back images of business cards, and an updated save feature that lets you save images of business cards to upload at a later time.
WorldCard Mobile costs $6 and runs on iOS 3.1 or later.