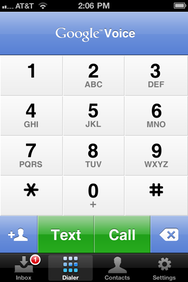 First, the Beatles arrived on iTunes; now, with Google's official Google Voice app showing up on the App Store, you might be tempted to think that the end times are upon us. But sure enough, the controversial application is finally available.
The new client brings most of Google Voice's features to the iPhone, including free text messaging, voicemail transcription, and cheap international calls. In addition, the app sports push notifications that can alert you when you have a new text message or voicemail. And because you log in to your Google Voice account, all of your contacts are already at your fingertips, in an interface reminiscent of the iPhone's own Phone application.
All you need to use the free app is an iPhone—sorry, there's apparently no support for iPod touches or iPads at present, even for the non-phone features—running iOS 3.1 or later and a free Google Voice account; currently, the app is available only to U.S. residents. Keep in mind that Google Voice is not a Voice over IP service—it still uses your actual phone, and thus your minutes, to make calls. Think of it as a service to juice up your existing phone capabilities, not replace them.
While the app itself is a welcome addition for many iOS users, the significance goes beyond just the software. In July 2009, Apple removed all third-party Google Voice applications from the App Store, citing the potential for user confusion as the underlying reason. That decision erupted into a controversy over Apple's App Store policies, eventually even prompting the FCC to get involved. In its response to the government agency in August 2009, Apple said that it had not actually rejected Google's own Voice client for the iPhone, as earlier reports had suggested—rather, it was continuing to "study" the application.
Since then, the two tech firms have been locked in a strange relationship that vacillates between veiled hostility and cooperation, with the Google Voice rejection taking the role of the assassination of Archduke Franz Ferdinand in the two companies' burgeoning conflict. Not long after the Google Voice fiasco, Google CEO Eric Schmidt stepped down from his position on Apple's board, with Apple CEO Steve Jobs citing increased areas of competition between the two companies as an explanation.
There was little movement on a Google Voice app in the intervening time, as the official app remained in Apple's studious limbo. In January, Google released an HTML5 Web app for Voice that worked well on the iPhone, but lacked many of the niceties of a native client. But there was no movement on iPhone apps for the service until September of this year, when Apple officially published its App Store approval guidelines. Shortly thereafter, the company also reversed course and approved third-party Google Voice clients for the App Store once again, leading many to suggest that the official client would soon follow, as indeed it now has.
But why now? Perhaps today, of all days, Apple was inspired by the words of its much vaunted icons and decided to simply let it be.