Arcade Cats by Star Cat Studios is one of those puzzle games that doesn't seem challenging at first, but then you reach the sixth level and the difficulty level skyrockets. Speaking of rockets, you can see a lot of similarities between Arcade Cats and the cult favorite Sega title Chu Chu Rocket. Both are puzzle games involving cats-and-mice. Yet, instead of one chasing the other, you must guide the rodents safely to collect stars while avoiding the wandering and malevolent cats. The similiarities between the two games end there, unfortunately, as Arcade Cats is a cheap carnival knockoff version of one of the most beloved cat-and-mouse-themed puzzle games of all times.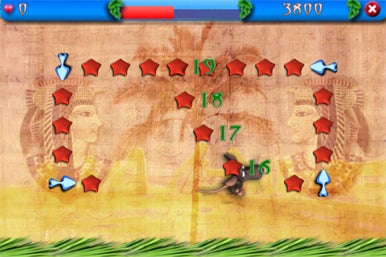 The low-budget of the game is evident immediately upon starting it—Arcade Cats lacks a real set of instructions. After some confusing troubleshooting, you'll eventually figure out that each level consists of a puzzle in which you must collect a certain number of stars by releasing mice from sewers. Mice are slow and can only walk in one direction, unless they run into an object that will alter their movement (arrows will change their direction once, while lightning bolts will speed them up briefly).
Once you've figured out the basics, the puzzles get harder, introducing cats that wander around the screen ready to destroy your mouse if it gets too close. Luckily, the cats follow a set path, so it's usually just a matter of timing. Some puzzles also require that you get all of the stars with one mouse—so you have to set up arrows to move your mouse around in a particular order (similar to other puzzle games, such as Escape from Norm's World).
While the puzzle aspect of the game is challenging and will keep you intrigued for a while, Arcade Cats didn't draw me in. The graphics aren't terrible but more importantly, the visuals don't make a lot of sense—the opening scene features an island with mountains in the background, while the rest of the game seems to have an Egyptian papyrus theme. Other aspects of the game also seem disjointed, such as the collectable jewels that randomly appear throughout the levels. There seems to be some bonus for collecting the jewels, but they still seem as though they were tacked onto the game as an afterthought.
Arcade Cats is a challenging puzzle game, but it's not terribly fun or polished. The instructions are confusing (perhaps ditching a tutorial altogether wasn't a great idea), a lot of the game's elements seem poorly implimented, and the mice are frustratingly slow. Just because your game is challenging doesn't necessarily mean its fun—especially when you can see so many exposed wires and poor development decisions.
[Sarah Jacobsson is a frequent contributor to Macworld.]