One of the drawbacks of Google's Gmail e-mail service is that the Website's interface lacks some of the nice features of a dedicated e-mail client. For example, clicking an e-mail link in a Web page or a document doesn't open a new Gmail message window, and you can't drag a document to an icon in the Dock to attach the file to a new message. You can configure an e-mail client such as OS X's Mail to access your Gmail account via IMAP, but Gmail's approach to message organization doesn't always work well with an IMAP e-mail client—plus you lose out on some of Gmail's popular features, such as labels.
An alternative is an e-mail client specifically made for Gmail. I previously covered Mailplane, which takes a Web-page view of Gmail and wraps it in an application shell. The benefit of Mailplane is that, within Mailplane's window, Gmail still looks like Gmail—if you like the way the Gmail Website works, Mailplane preserves that interface.
If, on the other hand, you prefer the features and interface of a traditional e-mail client, a promising alternative is Sparrow, a Gmail client currently in beta. At first glance, Sparrow looks a lot like Tweetie for Mac, with your account icon on the left, and below it icons for your Inbox, Starred mail, Sent mail, labels, Drafts, and Trash. If you've got multiple Gmail accounts configured, each account's icon appears in the list; clicking an account icon "expands" that account—again, Tweetie-style—to display the icons for that account's various views, while collapsing other accounts.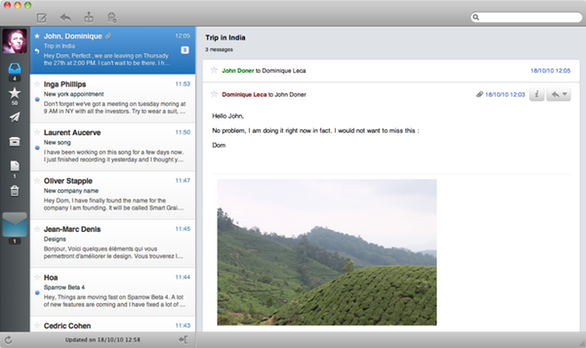 Click any view's icon to display a list of corresponding message to the right. Double-click a message to view it in a separate window, or, if you've chosen to show Sparrow's preview pane, simply select a message to display it to the right of the message list.
You work with messages much as you would in Mail. Sparrow even uses OS X's Address Book, auto-filling contacts as you type them into the recipient fields of messages. But unlike Mail, Sparrow supports Gmail-specific features such as labeling, archiving, and starring messages. You can also set up aliases so, for example, you can use a different From address than your primary Gmail e-mail address, and you can view message conversations in an interface that looks more like Gmail than Mail. The program also provides audible and Growl alerts when new mail arrives.
As I mentioned, Sparrow is currently in beta, and it shows: In testing the current pre-release version, I regularly had to quit and relaunch the program to get it to load new messages; the preview pane didn't always show attachments; and resizing the main window occasionally resulted in onscreen artifacts. But I'm looking forward to updates, as Sparrow has lots of potential for fans of Gmail.
Want to stay up to date with the latest Gems? Sign up for the Mac Gems newsletter for a weekly e-mail summary of Gems reviews sent directly to your Inbox. You can also follow Mac Gems on Twitter.