In Beast Boxing 3D by Goodhustle Studios, your challenge is to face off in the boxing ring against round after round of beastly adversary. The matches are intertwined in a comic style story in which you learn about the strange and original characters. Fights are in a first-person perspective with taps to jab and swipes for hooks and uppercuts. Tilt controls allow you to sidestep, and holding two fingers down puts up your gloves to block. Combinations are possible, but be mindful of your stamina so you don't get carried away and burn out too soon. The coins you'll collect from cheering fans and after the match help your purchase extra abilities in the gym, which will be needed against tougher opponents.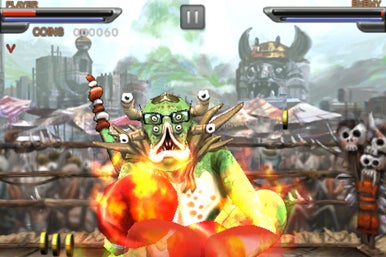 While 3D is in the title, you won't need any special glasses. While not truly 3D, the vivid backdrops and animated crowd scenes with the detailed character models do create an illusion of depth. The animations are superb as the original characters come to life each with their own fighting style. Controls are well done and force you to adapt to your opponent while it simultaneously adapts to you. Get complacent with a particular punch, and your opponent will get wise to you quickly. Game Center integration in included so you can boast about the the 20 achievements available to earn. Unfortunately there's no multiplayer to challenge friends.
Beast Boxing 3D is a ton of fun for boxing fans. If you're not sure it's too your liking, there is a lite version to try for free. With great use of touch controls, an amusing storyline, and wonderfully illustrated beasts, Beast Boxing 3D is a K.O.
Beast Boxing 3D is compatible with any iPone, iPod touch, or iPad running iOS 3.0 or later.
[James Savage is the host of the RetroMacCast a weekly podcast devoted to older Macintosh computers.]