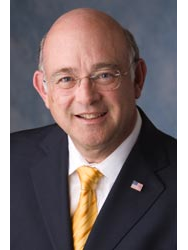 Apple on Wednesday announced a new addition to its board of directors: Ronald D. Sugar. The former Chairman and CEO of aerospace firm Northrop Grumman will chair the company's Audit and Finance Committee, a position formerly split between board members Bill Campbell and Arthur Levinson.
"Ron is an engineer at heart, who then became a very successful business leader. We are very excited to welcome him to Apple's Board," Apple CEO Steve Jobs said in the company's announcement. "In addition to having been the CEO of a high-tech Fortune 100 company, Ron has a Ph.D. in engineering and has been involved in the development of some very sophisticated technology."
Sugar retired from his position at Northrop Grumman, which he had held since 2003, at the end of 2009. He also serves on the boards of Chevron, Amgen, and Air Lease, and is a member of the University of Southern California Board of Trustees as well as a Professor of Management and Technology at the school. In addition, he's a member of the National Academy of Engineering, a fellow of the American Institute of Aeronautics and Astronautics, as well as of the Royal Aeronautical Society.
His spot on the Audit and Finance committee is solidified by his position of Chief Financial Officer of TRW—the aerospace firm that built space probes Pioneer 1 and Pioneer 10—which was acquired by Northrop Grumman in 2002. He's also a senior adviser to private investment firm Ares Management.
Previous to that, Sugar graduated summa cum laude from UCLA in 1968, with a degree in engineering, which he later supplemented with master's and doctorate degrees from the school. Subsequently, he finished executive programs at Stanford, Wharton, and Harvard.
The addition of Sugar sweetens Apple's board, which had been somewhat depleted since the departure of Google CEO Eric Schmidt last year. The last person to join Apple's board prior to Sugar was Avon CEO Andrea Jung in 2008, who also serves on the Audit and Finance Committee with Campbell and Levinson. As Apple's committees are comprised of three people, it remains to be seen who will be giving up their spot for Sugar.