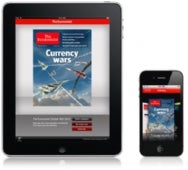 The Economist is coming to iPhone and iPad; the publication announced on Wednesday that the magazine's new app will debut in the App Store on Friday.
Current print and online subscribers to the weekly newsmagazine will be able to access The Economist's content for no additional charge. The announcement didn't say if some content would be free to the public, as with its Website, or if the app will be entirely a pay-to-play offering. A subscription to the magazine in digital-only format is currently $110 a year in the U.S.
The announcement comes a month after The Economist launched the fall issue of its quarterly magazine, Intelligent Life, as an iPad application. That print magazine requires a $60-per-year subscription, but the current issue is free for iPad users thanks to a sponsorship deal with Credit Suisse bank.
The Economist said further details about the app will be available when it launches on Friday.