At a Glance
Expert's Rating
Pros
Modes for low-light, panorama, 3D shooting
Accepts both SD/SDHC and Memory Stick
Very slim, with good build quality
Customizable icon menus in all shooting modes
Cons
Pricey for a camera with no manual controls
Images look a bit soft when you don't use a tripod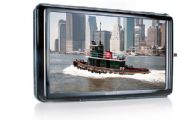 Although it's as thin and light as any camera we've seen, the Sony Cyber-shot DSC-TX9 certainly doesn't skimp on features or performance. This ultracompact touchscreen camera is one of the first Cyber-shot cameras to offer 3D shooting modes, and it has Sony's excellent Intelligent Sweep Panorama and Handheld Twilight modes.
At $350, it's also the most expensive touchscreen point-and-shoot camera we've tested in 2010 (a pool that includes the Fujifilm FinePix Z800EXR and the Panasonic Lumix DMC-FX75). But it's the sexiest, too, and its performance and its versatile shooting modes may well be worth the price.
Hardware and design
The 12-megapixel DSC-TX9 features a 25mm wide-angle Carl Zeiss lens with 4X optical zoom (25mm to 100mm), 1080i HD video recording in AVCHD format at 60 frames per second, and the same supersleek profile as Sony's previous T-series Cyber-shots.
The TX9's slender body measures just 3.88 by 2.38 by 0.72 inches. Weighing 5.3 ounces with its battery and an SD/SDHC or Memory Stick card loaded (the TX9 accepts either format in its combination slot), the TX9 is the slimmest and lightest of this year's touchscreen bunch.
A vertically sliding sliver of metal acts as a lens cover; you slide it down on the faceplate to turn the camera on. A large, 3.5-inch-diagonal touchscreen dominates the back, and five physical controls (a dedicated power button, a shutter button, a zoom toggle on the corner edge, a playback mode button, and a movie button) line the top. It's nice to see that this is not a 100-percent-touchscreen camera; the dedicated buttons for switching to movie mode and playback mode are both extremely convenient.
You'll find no line-out ports on the camera itsel; instead, Sony includes a multi-output dock that features USB, AV, and HDMI ports for media playback. The camera is also equipped with TransferJet technology, which allows for wireless photo and video transfers between the TX9 and TransferJet-enabled devices. You need a TransferJet-enabled Memory Stick card (sold separately) to use this wireless feature.
Shooting modes and features
The DSC-TX9 offers a full complement of shooting modes, including Intelligent Auto mode, Superior Auto mode, Intelligent Sweep Panorama, Movie Mode, Program Auto, Background Defocus, Scene Selection, and 3D Shooting.
The Intelligent Auto mode is what most casual shooters will use for the majority of their snapshots: It picks from nine different scene modes to optimize in-camera settings based on the shooting environment. Intelligent Sweep Panorama mode, meanwhile, is a convenient way to take panorama photos—just tap the shutter button once and then move the camera slowly in the direction of the arrow. And the Program Auto mode is the closest you'll get to Manual, as there you can play with the exposure, ISO, and white balance.
Perhaps the most intriguing modes are the 3D shooting options. The TX9 has two types of 3D shooting modes: 3D Sweep Panorama works like the Sweep Panorama mode but creates an offset photo that you can view in 3D on a 3D-enabled HDTV with active-shutter glasses. The 3D Sweep Multi Angle mode also works similarly to Sweep Panorama (in that you press the shutter button once and move your camera across the scene), but it takes a bunch of different photos from varying angles and compiles them into one 3D photo. You can view the "3D" nature of the photo directly on the DSC-TX9's screen by tilting the camera back and forth to simulate viewing the same shot from different angles. The 3D technology still needs a lot of work, but avid early adopters will love this feature nonetheless.
For people with shaky hands, the camera has two specialized anti-motion shooting modes: Anti Motion Blur and Handheld Twilight. In both modes, the TX9 takes six quick photos in succession and combines them into one photo to produce a picture with less noise and more detail. These modes work well, as long as you don't zoom in too closely (in which case you'll see that details are a tad blurry).
It's a good thing the Handheld Twilight mode works nicely, because the TX9's flash is somewhat of a problem in low light. Pictures in virtual darkness (think nightclub) come out looking a lot more washed out and white than do pictures taken in similar conditions on the FinePix Z800EXR and the Lumix DMC-FX75. For capturing photos in extreme low-light conditions, it's best to skip the flash and use Handheld Twilight.
Touchscreen controls
The DSC-TX9's touchscreen allows for easy operation, especially if you use the included stylus (luckily, the stylus is designed to attach and detach easily from the wrist strap, so you don't end up with the Lumix DMC-FX75's problem of needing to take the camera off your wrist every time you want to use the stylus). While the touchscreen is responsive to finger gestures, the stylus improves accuracy.
The TX9 does fall short of the competition when it comes to touch-based focusing controls. Although you can touch an object on the screen to focus on it, the TX9 doesn't snap a shot automatically after focusing, as the FinePix Z800EXR and Lumix DMC-FX75 do. You still have to press the shutter button after you focus to capture your shot.
The touchscreen menus aren't as easy to use as the FinePix Z800EXR's, but they're also not as complicated as the Lumix DMC-FX75's. They are fairly intuitive (though there is a learning curve, especially in dragging and dropping shortcut items into the sidebar), and they feature nicely descriptive words along with icons.
Once you get the hang of dragging and dropping shortcut items into the sidebar, the potential for customizing the DSC-TX9 is a standout feature. In any shooting mode, you can simply tap the Menu icon and then tap the little gear icon, and you'll be able to switch four icons into the sidebar menu. The sidebar menu will appear when you're shooting, for quick adjustments to your photos–though the full range of options will still be available to you when you tap the Menu icon.
Performance, image quality, and video quality
Like the majority of Sony's recent Exmor-sensor point-and-shoot cameras, the Cyber-shot DSC-TX9 fared well in our lab's subjective image and video testing. On exposure quality, color accuracy, sharpness, and lack of distortion, it earned scores of Very Good.
The TX9's overall performance score matched that of high-end point-and-shoots such as the Canon PowerShot S90 and Samsung HZ35W. That's very impressive for a slim, feature-filled compact camera.
Our lab tests use a tripod and a controlled testing environment to gauge image quality; but in my hands-on tests, the Cyber-shot DSC-TX9's photo quality skewed a bit more toward average. Photos tend to look washed out and on the soft side, but that shouldn't be much of a problem for casual shooters. At around ISO 400, photos look a bit soft, and at ISO 800 and higher, even less-discerning photographers will start to notice image noise.
In our subjective video tests, the TX9 received an overall score of Good, capturing decent AVCHD video at its highest setting (1080i at 60 fps and 17 megabits per second as an .MTS file) in bright light. Its low-light video performance didn't match its low-light still quality, as the sample footage we took in dark indoor lighting was a bit murky.
Watch the sample clips from our subjective video tests (for both bright light and low light) below. Select 1080p in the drop-down menu in the lower-right corner of each player to see each clip at maximum resolution.
Macworld's buying advice
The Sony Cyber-shot DSC-TX9 is a good touchscreen camera that will thrill Sony gadget fans. Since it has a ton of shooting modes, including some rather nifty ones (Handheld Twilight, 3D, Intelligent Sweep Panorama), a casual photographer is sure to find this camera more than capable. Image quality can be iffy in certain situations–pictures tend to look soft and washed out—but in overall performance the TX9 is among the best we've seen in 2010. The price is a little higher than that of similar cameras, but if you have the money to spend, this is definitely a sleek, stylish camera that gives you plenty of options.