Online travel company Orbitz Worldwide has released the free Orbitz iOS app, which gives iOS users access to most of the Orbitz Website's travel booking features.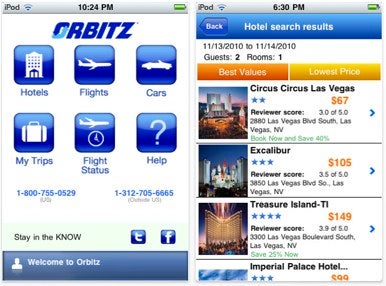 With the Orbitz app, you can book flights, make reservations for hotels and rental cars, and view your travel itineraries. You can even make last minute, same-day reservations—a feature that could come in handy for traveling businesspeople, or absent-minded vacationers. The app also lets you check your flight's status, view gate and baggage claim details, and search for available hotels near your current location.
Mobile Orbitz customers receive the same Price Assurance protection for flights and prepaid hotel bookings as their desktop counterparts. With Orbitz Price Assurance, if another Orbitz customer is able to book the same prepaid hotel room or flight for less than what you paid, Orbitz will automatically send you a cash refund for the difference.
Orbitz has also launched a new smartphone-friendly mobile Website that lets you access most of the company's services via mobile browsers.
The Orbitz app requires an iPhone or iPod touch running iOS 3.0 or later.