Update: A Hulu representative contacted me to let me know that the resume feature is once again working, and I've confirmed it in my tests.
As promised, Hulu on Wednesday updated its Hulu Plus iOS app with some new features, bug fixes, and enhancements.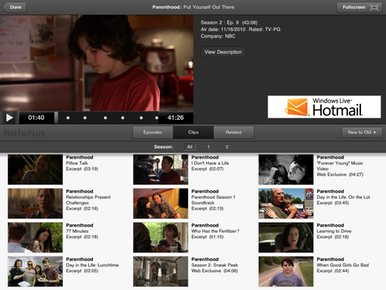 With Hulu's subscription service having hit primetime earlier in the day—including a new partner announcement—it's nice to see attention paid to the existing apps. Version 2.0 of Hulu Plus brings a split-screen player for the iPad that lets you keep browsing certain sections of the Website.
Hulu's also improved the management of both your queue and your subscriptions—for one thing, it now actually displays the (all too many) shows that aren't available in the app, with a notation that you can only stream them on the Web. Previously, it showed only programs that are available on Hulu Plus.
In addition, Hulu has tweaked playback performance; I'll say I was impressed with the quality in my brief test over Wi-Fi. It also changed the thumbnail behavior on the iPad, allowing you to choose in the Settings app whether you want to tap once for info and twice to play, or tap once to play and press and hold for info. The company also patched a bunch of miscellaneous bugs.
An additional note: though Hulu Plus says it allows you to resume playback from where you left off watching on another device, I had no luck with taking advantage of this feature between my computer, iPhone, or iPad—in fact, it didn't even save my place when I switched in and out of the application under iOS 4 on my iPhone. Instead, I had to start the video over each time, which is more than a bit irritating.
Hulu Plus is a free download, but in order to access most of the content, you'll need a Hulu Plus subscription, which now runs $8 per month. The app is universal, requiring any iOS device running iOS 3.2 or later.