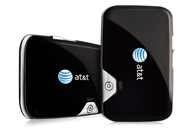 Now that AT&T's mobile data growth has slowed to just 30 times its three-year rate, AT&T must feel comfortable joining the ranks of Verizon, Virgin Mobile, and Sprint with its very own MiFi Mobile Hotspot.
Like other mobile hotspots, such as Verizon's MiFi and Sprint's Overdrive, AT&T's MiFi 2372 is essentially a pocketable mini-router powered by the carrier's network (it's also built by Novatel, complete with a custom MiFi OS). It boasts typical features like support for five simultaneous Wi-Fi-connected devices and a four-hour battery life.
AT&T's MiFi 2372 also sports a microSDHC slot (presumably to be used for wireless storage?), built-in GPS hardware for location services, and browser-accessible widgets and apps for things like checking your bandwidth usage and sending AT&T SMSes from your computer.
AT&T's MiFi 2372 will be available online and in AT&T retail stores starting on Sunday, November 21 for $50, though a $100 mail-in rebate and two-year contract are required to hit that price. For some inexplicable reason, AT&T also charges a little more for data when used through a MiFi as opposed to an iPhone: the data plans for the device will run you $35 for 200MB and $60 for 5GB.