The Omni Group has released a major update to OmniFocus, its powerful task manager for iPhone that syncs with Mac and iPad counterparts. Nearly 40 tweaks, fixes, and new features are bundled into this release.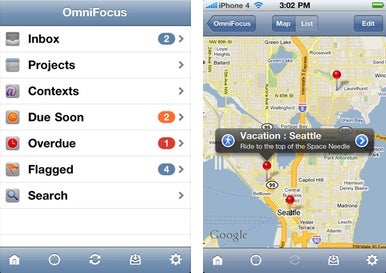 OmniFocus 1.8 for iPhone adds a lot of features supporting Apple's upcoming iOS 4.2 update, including background syncing. In a nice tweak, if an automatic sync is due soon, it'll start the sync early if you switch to another app so that it can carry it out in the background. OmniFocus's reminder system, which harnesses iOS 4.0's new Local Notifications abilities, also got overhauled. Reminders will now go off even if OmniFocus is still the active app, and a new, distinct sound is used to make OmniFocus task alerts stand out from the herd.
The map-based features of OmniFocus also received quite a bit of attention in version 1.8. When attaching locations to tasks, business results are now displayed in your preferred language when possible, and a host of fixes and behavior tweaks should return more accurate results when searching for a location or finding local tasks based on a context you've created in OmniFocus.
You can read the full list of changes in The Omni Group's forums, or just go grab OmniFocus 1.8 for iPhone and iPod touch. OmniFocus costs $20 and requires an iPhone or iPod touch running iOS 3.0 or later.