Itching to make some fast cash in the mutant-hunting trade, but worried about ruining your favorite pair of jeans? id Software, the folks that popularized the first-person shooter genre, has some Rage for you.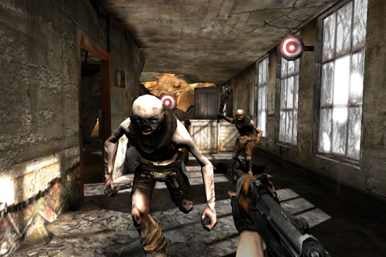 The company first ventured in the first-person shooter realm in the early 1990s, with its breakthrough title Wolfenstein 3D, followed by popular franchises Doom and Quake. Rage doesn't stray from the company's familiar shooter format, but it employs a new stylistic twist—you are a participant in a post-apocalyptic game show hunting mutants.
Rage is an "on rails" shooter, which means your movement through each level follows a specific path as you annihilate baddies and perform other minor tasks. However, unlike many other rails shooters, you have full control over where you look in Rage, which makes for a more compelling shooter experience. You need to find weapons, ammo, and Bash Bux—the game's currency—to survive a variety of environments, and you can even cut deals with the show's host to save some skin.
Back in August, id Software offered a preview of Rage for iOS devices, boasting some of the richest detail seen to date in a game on Apple's mobile devices, as well as impressive 60 frames-per-second performance on the latest hardware. Rage is not exclusive to iOS, mind you—id Software has been working on the title, and the new gaming engine that powers it, for other platforms since 2007; that version of the game is due in 2011. But Rage's arrival on the iPhone and iPad—before its debut on other platforms—is another big feather in iOS's gaming cap.
Two versions of Rage are available in the App Store, though they are not divided across the typical lines of iPhone and iPad. Both versions are universal for all three iOS devices, though Rage HD is only $2 and a whopping 743MB, packed with the highest resolution graphics for the latest generations of the iPhone, iPod touch, and iPad. Meanwhile, Rage, at just $1, is 537MB and designed for basically any iOS devices not released in 2010. Both are available now in the App Store and require at least iOS 3.1 or later.