The New York Times Company has released an update to its free NYTimes for iPad app that adds support for iOS 4.2 and blocks off numerous sections of the publication to unregistered users.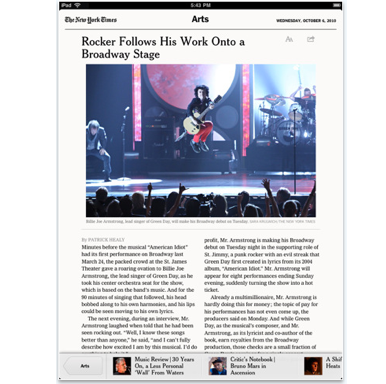 The NYTimes app includes over 25 sections of The New York Times's daily publication, including Arts, Technology, Politics, Science, Style, and more. The app lets you view photos and videos; read selections of the latest Times blogs; and share articles, photos and videos through Facebook, Twitter, and e-mail. You can also have the app deliver push notifications for breaking news.
Version 2.0.3 adds support for the upcoming iOS 4.2, but it also restricts the majority of its content to registered users. Unregistered users can now only access the Top News, Most E-mailed, Business Day, and Video sections. Though users can register with New York Times for free, this move is likely a transitional step the company is taking toward making NYTimes for iPad a paid app—a change that will take effect in early 2011, according to the app's page in the App Store.
Until then, a quick registration process should only be a minor hurdle in the path to enjoying free coverage by a world-class publication.
NYTimes for iPad requires iOS 3.2 or later.