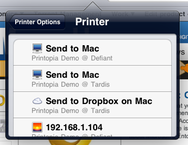 It never rains but it pours: not an hour after we brought you news of FingerPrint, Mac developer Ecamm Network—makers of fine software like Call Recorder, PhoneView, and PadSync—announced its own solution for bring AirPrint-compatible printer sharing to the Mac: Printopia.
Like its competitor, Printopia easily allows you to share printers from your Mac to devices running iOS 4.2. But it goes beyond that simple functionality to add a bunch of additional features, such as the ability to instead save a print-out as a PDF or JPG on your Mac. And if you're a Dropbox user, you can even send the print-out directly to your Mac's Dropbox folder, which—if you're running the Dropbox iOS app—will sync directly back to your iOS device.
Unlike FingerPrint, Printopia quietly runs as a background app that you can adjust from inside System Preferences. You can select which printers you want to share on AirPrint—including disabling the print to file options—or just flip the entire system on or off.
Compatible with both Mac OS X 10.5 and 10.6, Printopia runs $10, but you can try a free demo for 7 days before purchasing.