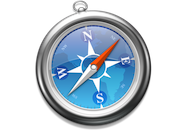 Apple on Thursday released Safari 5.0.3 for Mac OS X 10.6, 10.5, and Windows and Safari 4.1.3 for Mac OS X 10.4. The releases enhance features, fix bugs, and patch a number of security vulnerabilities in the company's Web browser.
The updates brings several tweaks to the browser, including more accurate Top Hit results in the location bar and the Top Sites display, a fix for an issue that could cause Flash content to overlap Web page content, better pop-up blocking, improved stability for search and text input on Netflix and Facebook, and improved stability for both JavaScript-intensive extensions and VoiceOver.
More importantly, the updates also include more than 25 security fixes for WebKit, the software layout engine that underpins not only the desktop version of Safari, but the iOS version of Apple's browser and other software like Google Chrome and the iTunes Store. Among the patches are one that prevents a Website from tracking users and one that stops sites from spoofing the location bar address or altering your Web history. The vast majority, however, patch vulnerabilities that could allow a maliciously crafted Website to cause Safari to quit or allow the execution of arbitrary code.
Safari 5.0.3 is compatible with Mac OS X 10.6.4 or later, Mac OS X 10.5.8 or later, Windows 7, Windows Vista, and Windows XP and is available via Software Update or from Apple's Safari page; Safari 4.1.3 is available via Software Update or from Apple's support download site.