Cultured Code's Things, a stylish project and task manager for the iPad, has gained a couple of key features ahead of Apple's much-anticipated iOS 4.2 update.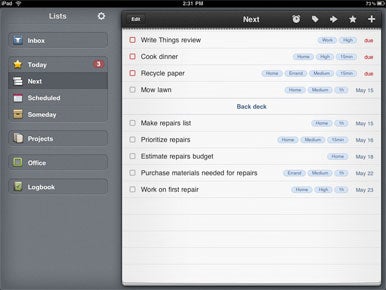 Things 1.3 for iPad is ready for iOS 4.2 in two key ways. First, it supports multitasking on the iPad, probably the most requested feature of Apple's tablet.
The second addition is support for Local Notifications, which Apple added to the iPhone and iPod touch last summer with iOS 4.0. Local Notifications finally arrive on the iPad in iOS 4.2, providing an alternative to Apple's Push Notifications.
With Push Notifications—which Apple first rolled out in iOS 3.0—developers need to run (or sign up for) a server in order to push event alerts to a device. By extension, your device also needs to have an Internet connection in order to receive said alerts; no Internet, no alert.
Local Notifications allow apps to keep track of their own reminders and present them at the scheduled time, with no Internet connection or costly servers required.
Things 1.3 is available now for $20 in the App Store. It requires an iPad running iOS 3.2 or later.