December isn't here yet, but the case makers have already kicked into high gear for the holiday season. A number of cases in this roundup feature cheerful holiday graphics that could make for great stocking stuffers should Santa choose to visit your home. For those not celebrating the holidays, there are plenty of new, non-holiday-themed offerings, as well. Read on for all the details.
Cygnett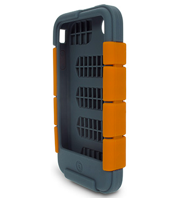 Melbourne, Australia's Cygnett has a new, extra rugged case that would make Crocodile Dundee proud. The Workmate ($30) is a hefty, rubberized case that features two layers of sturdy, impact-resistant protection and is aimed at the active, athletic iPhone user—or anyone else whose lifestyle involves their phone being occasionally knocked about. A layer of ridges extends over the edge of the screen to act as a buffer in case of face-down falls, making the WorkMate a solid choice for front-to-back protection of your phone.
Dexim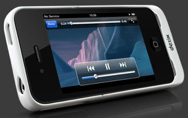 Dexim's Super-Juice Power Case for iPhone 4 is a protective, hardshell case with a built-in, super-slim, 2000mAh Lithium Polymer battery. The company claims the battery can extend your iPhone 4's talk time by up to 6 hours, video and gaming time by up to 10 hours, or music playback time by up to 40 hours. Using the included micro-USB cable, you can charge and sync your iPhone without removing it from the case. Along with a battery, the Super-Juice Power Case also sports a built-in kickstand that lets you enjoy hands-free video viewing on any flat surface. Pricing and availability have yet to be announced.
Material6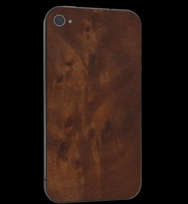 On the fancier side of things, Material6's new iPhone 4 cases ($89) are hand-crafted from a variety of quality woods to perfectly fit the phone. You can choose Wenge, a tropical hardwood native to Tanzania, Mozambique and the Congo; Birdseye Maple, which hails from North American Sugar Maple and features a stunning pattern that resembles tiny swirled eyes; and Roble Burl, from the Roble Beech tree that is found natively only in specific parts of Chile and Argentina.
NLU Products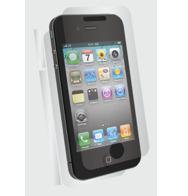 NLU Products's BodyGuardz Dry Apply for iPhone 4 ($25) is a full-body protective film that uses liquid-free adhesive to make application easier—and less messy. The thin, protective film is made of material typically used to shield the fronts of automobiles from abrasive elements and environmental impact, so keeping your iPhone scratch-free shouldn't be a major challenge for it. Impact protection, on the other hand, will be minimal without a thicker shell to absorb shock—a price that must be paid to maintain your phone's original, super-thin aesthetic.
The company is also releasing two other cases, which aren't yet listed on its Website. The Ciderz ($20), made of polycarbonate and TPE rubber, provides ultra-thin edge protection in nine falvor-inspired colors, such as Black Cherry and Bubble Gum. The Shelter ($30), also made of polycarbonate and TPE rubber, provides scratch and impact protection for the sides and back of your phone, while a gap between the shell and the bottom of the phone helps enhance speaker output.
Secret Mac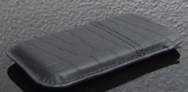 Secret Mac's new line of Fantabulous iPhone cases ($20) are made of tough, faux leather and feature a soft, microfiber inner lining that protects your phone from scratches and cleans it each time you remove it from the case. The snazzy cases come in a variety of colors, with two main texture styles— Alligator and Leopard—to choose from.
Speck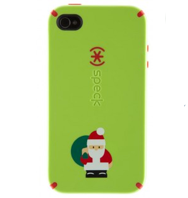 Speck is celebrating the holiday season with its new Holiday CandyShell Cases ($30). These glossy, hardshell cases sport seasonal graphics of snowmen and Santa, and feature a soft, rubber center that absorbs shock. The case snaps easily on and off, and allows access to all of the phone's ports and controls.
USBFever
Discount accessory maker USBFever has its own holiday-themed cases to make the winter season merry. The plastic cases are lightweight, providing impact and scratch protection while allowing access to all of your device's ports, buttons, and sockets. The themed cases feature printed graphics of a snowman, a bag of Christmas goodies, and Santa Claus. At $13 a pop, these affordable, pleasant cases could make nice stocking stuffers for the little ones—or at least the little ones lucky enough to have iPhones.
Zazzle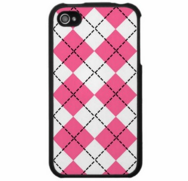 Zazzle has teamed up with Speck—yes, the Speck I just mentioned—to offer a new line of customizable iPhone 4 cases. The hardshell cases feature easy-to-grip fabric backing and are lightweight and comfortable to hold. You can chose one of dozens of stock artistic graphics, or you can submit your own image to be printed on the case. Prices range from $40 to upwards of $60, depending on the type of case and the artist behind the graphic.
32GB iPhone 4 (GSM, AT&T)
16GB iPhone 4 (GSM, AT&T)