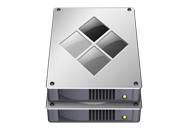 Apple on Thursday released several patches for its Boot Camp software as well as firmware updates for its MacBook and 13-inch MacBook Pro.
The 3.2 Boot Camp software—available in two different flavors for users of 32-bit and 64-bit versions of Windows, respectively—adds support in Windows for the ATI-Radeon HD 5870 graphics card, Apple USB Ethernet Adapter, and MacBook Air SuperDrive, and addresses a variety of unnamed critical bug fixes. Apple recommends all users of Boot Camp 3.1 upgrade to this new version.
Meanwhile, the 2.0 EFI firmware updates for the MacBook and 13-inch MacBook Pro fix an issue where external displays connected to those models could suffer from an overly purple hue.
The Boot Camp 3.2 software supports Windows XP, Vista, or Windows 7, and requires that Boot Camp 3.1 be installed. The software takes up 280.28MB of space (if using a 32-bit system; the 64-bit needs just 121.25MB). The EFI Firmware 2.0 updates require a MacBook or 13-inch MacBook Pro running OS X 10.6.5, and just 1.98MB of space. Any of the four updates can be downloaded from Apple's Support Website or via Software Update.
Apple MacBook Pro MC375LL/A Notebook