On Thursday, NaturalMotion Games, a digital publisher of mobile games, announced its formation as a games publisher. The Oxford-based group, who was responsible for the development of the successful iPhone game Backbreaker Football, has formed with the desire to contribute quality titles to the iOS gaming community and provide consumers with new means of immersion and accessibility in gaming.
NaturalMotion Games will serve as the publishing branch of NaturalMotion, a technology and game development company that you may not have heard of before, but has likely contributed to a game you have. NaturalMotion is behind the animation technology Euphoria, which has been utilized in titles like Grand Theft Auto IV, Red Dead Redemption, and Star Wars: The Force Unleashed. Euphoria animation is much more complex and realistic than rag-doll physics, ensuring that the character models react to the environment in a realistic way. If a stormtrooper is shot in the side, for example, they'll stagger and react in a realistic way.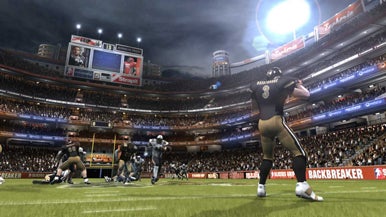 Accompanying NaturalMotion Games' announcement of establishment, the publisher also revealed plans to release its two inaugural games, Backbreaker 2: Vengeance and Jenga for the iPhone.
Backbreaker 2, sequel to the well-selling iPhone game, looks to hold onto the impressive features of the original while adding improved animation, visuals, and game features. This new version of the football game will allow players to tackle the opposition in the all-new "Vengeance Mode." Here, you have the option to play as a defensive lineman tasked with stopping the ball carrier from making scoring a touchdown. NaturalMotion Games has also added additional maneuvers for players to utilize when on offense, including jumping and trucking. While these new moves are fancy, they're also going to be necessary: gates, hurdles, and other obstacles are now scattered about the field.
While not the most realistic football simulator, the Backbreaker is extremely challenging and visually satisfying—the sequel looks to push its gameplay in new directions while keeping the core concept intact. Fans of the original game will also be pleased to check out the two new stadiums and visual effects added in Backbreaker 2: Vengenace. Backbreaker Football was well renowned for its gorgeous graphics the first time around, but this version surpasses it with console-quality lighting, shadows, and a full Retina display resolution.
In addition to Backbreaker 2, NaturalMotion Games is at work developing Jenga for the iPhone. The physics game has been developed so that each individual block is affected realistically by the activity of the blocks around it. Like the physical, tangible version of the game, the Jenga tower is highly sensitive. Using the iPhone's sensitive touch screen, players must carefully remove blocks using a combination of gentle tap and drag controls. Also true to the real life version of the game, the tower tends to sway and wobble as it grows in height. In addition to the classic pull-and-build Jenga game, the iPhone app comes with a brand new way of experiencing Jenga: Jenga Arcade. In this fast-paced "match three" mode, removing certain colored blocks in combinations can earn coins and special boosts like multipliers and wildcards.
NaturalMotion's Jenga also captures the social aspect of the classic game. In addition to a single-player mode, up to four people can engage in the Pass'n'Play mode. While you're welcome to compete with your friends in classic competition, groups can also play together to build their towers together and then compare their work to towers around the world. While Jenga promises to provide for a faster cleanup when playing on the iPhone, it will be interesting to see if the tumbling of blocks on the screen comes close to being as satisfying as playing in real life.
Both Backbreaker 2: Vengeance and Jenga will be released this holiday season.
Note: When you purchase something after clicking links in our articles, we may earn a small commission. Read our affiliate link policy for more details.