The following article is excerpted from Digital Arts.
Back when Steve Jobs introduced the new multi-touch iPod nano in September, he joked that one of the members of Apple's Board of Directors was going to wear it as a watch. Naturally, designers immediately jumped on this idea and started churning out wristwatch prototypes for the new iPod nano. Most concepts involve just the strap (albeit, a sexy notched strap), such as iLoveHandles' " Rock Band" ($20), while others include a strap and case, such as Incipio's " Linq" ($25).
Even tech bloggers have gotten in on the act: Wired's Brian X. Chen created one by re-using the wriststrap from a military-style watch.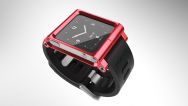 The latest concept – and it's a pretty good one – comes from Scott Wilson, founder of Chicago-based design firm Minimal. Minimal has worked on a variety of high-tech projects, including the design for the Xbox Kinect.
There are two concepts: TikTok and LunaTik. The TikTok is an easy snap-on design made of silicone and reinforced polycarbonate. The LunaTik is more of a conversion kit, and it's designed for users who want to use their iPod nano as a watch most of the time. Instead of snapping on and off easily, the LunaTik surrounds the iPod nano and is secured using stainless steel bolts.
You can pre-order the designs now, by pledging money to TikTok+LunaTik's Kickstarter page. You can pledge $25 for the TikTok and $50 for the LunaTik. You can also pledge $70+ to get both the TikTok and LunaTik, $150+ for a TikTok and a special, serialized, red-anodized LunaTik watch signed by Wilson, or $500+ to receive a "Spread the Love Party Pack." The "Spread the Love Party Pack" includes the red-anodized LunatTik, five silver LunaTiks, five TikToks, and an 8GB iPod Nano.
When the TikTok and LunaTik are finally introduced to the market, they will retail for $35 and $70, respectively. So if you think you might want one, go donate.
16GB iPod nano (sixth generation, late 2010)