As Macworld's resident Star Wars-ologist—I was this close to my Ph.D. at the University of Alderaan—it falls to me to check out every new iOS game that takes place in a galaxy far, far away. I've run the Death Star trench and defended the Rebel base on Hoth, and now I've taken a seat in the gun turret of the fastest hunk of junk in the galaxy: the Millennium Falcon.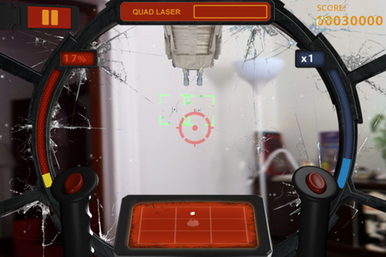 THQ Wireless's Star Wars Arcade: Falcon Gunner's title may not look like much, but don't let it fool you: she's got it where it counts. The game pits you against TIE Fighters, Star Destroyers, and more, with accelerometer-powered motion controls to aid you in your quest to take down dastardly Imperial scum. As you play through the more than 20 levels, you'll earn credits that let you add a few special modifications to help you go on the offensive or keep yourself better protected.
But the coolest feature is an augmented reality mode that lets you bring the fight right into your living room, or yard, or, well, wherever you happen to be. The game will replace the usual space backdrop with whatever your iPhone or iPod touch's camera is seeing. And of course the game is peppered with authentic sound effects and music from the movies, along with some classic quotes, unfortunately delivered by some rather bland stand-ins.
The graphics are optimized for a Retina display, and there's support for Apple's Game Center social network. You'll need an iPhone 3GS, iPhone 4, or fourth-generation iPod touch running iOS 4.1 to play (THQ warns that older devices may have memory issues). With that in mind, it's the three words you've been longing to hear: "Punch it, Chewie!"