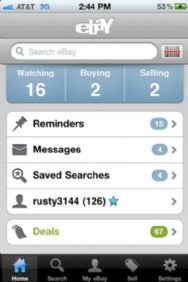 eBay has updated its iPhone app with new search-based features to make it easier to buy and sell goods on the auction-based Website.
eBay Mobile 2.0 debuted Thursday with new options to refine product searches along with improved results for those searches. The updated app also allows users to save and share their favorite searches, and offers alerts when new items matching their saved searches are listed.
The updated app also integrates RedLaser barcode scanning, and helps users track their eBay activity with a new Reminders feature. As with previous versions of the app, users can bid—and sellers can check on their sales—without having to use a computer.
eBay Mobile 2.0 is free and compatible with any iOS device running iOS 3.1 or later.