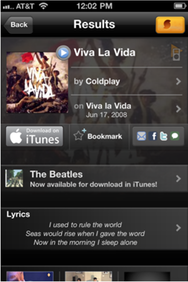 The entire catalogue of The Beatles is finally available on iTunes, but if you're not keen on shelling out $149 for the complete box set—or sifting through hundreds of the band's songs in search of that one song whose name eludes you— SoundHound might be able to help.
The song search company has updated its app to link you straight to the Beatles iTunes catalog when you search for one of the Fab Four's songs. Since the app can identify songs from your own singing, you can now simply hum the melody of a favorite Beatles song and download it on the fly. It might have been a hard day's night, but you won't be working like a dog trying to find your favorite Beatle's tunes with SoundHound.
SoundHound costs $5 and runs on iOS 3.0 or later. A free version with limited monthly song identifications is also available.