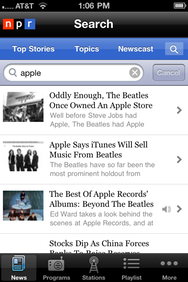 News junkies in need of their fix can fire up the App Store and grab the updated 3.0 version of the NPR News app, which arrived on Thursday.
Included in version 3.0 is the ability to search through NPR's archives, so you can find that story you missed; support for quickly swiping through stories in the News section and in the search results; a new pull-down-to-refresh feature to update Top Stories; support for the background audio playback that arrived in iOS 4; and updated graphics for the iPhone 4 and fourth-generation iPod touch's Retina displays. In addition, the app also brings a handful of bug fixes.
That's in addition to NPR News's existing features, which let you listen to hourly news broadcasts, live on demand audio, and public radio podcasts; browse a program guide and find local stations; and skim stories and download them for offline reading.
NPR News is a free download and requires an iOS devices running iOS 3.1.3 or later.