Businesses and the enterprise are putting the iPad to work, and now those users can manage their social presence on Apple's tablet, thanks to a major upgrade to HootSuite.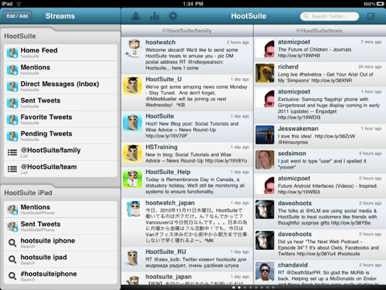 HootSuite is a social media dashboard designed primarily for businesses. You can manage multiple accounts across services like Twitter, Facebook, WordPress, LinkedIn, and even Foursquare. You can schedule posts for a later date, invite team members without sharing sensitive account passwords, view short URL analytics, and even get useful insight into the social reach of your followers.
The company has provided many of its best features in an iPhone app for some time, and now it's added a native iPad interface. HootSuite 2.0 is a big universal upgrade that brings many of the service's best features and clever interface tools to the more expansive display of Apple's tablet.
Like HootSuite's Website, the iPad app displays multiple columns at once and let you scroll horizontally between them, allowing you to get a bird's-eye view of just about anything you want—Twitter replies, Facebook comments, and/or keywords searches to stay on top of the latest topics in your field.
HootSuite 2.0 is available now for free in the App Store, requiring an iPhone, iPod touch, or iPad running iOS 3.1 or later. HootSuite offers a variety of accounts; they start with a free ad-supported model that limits you to five social accounts, no team members, only 30 days of stats history, and just two RSS feeds that you can automatically syndicate to your accounts. Pro and Enterprise plans start at $5 per month, which bumps you up to unlimited social networks, RSS feeds, and stats history, as well as one free team member, Google Analytics integration, Facebook Insights, no ads, and more.