At first glance you might think Hexage's EVAC is a Pac-Man clone, but it isn't. Instead, think of it as a maze game with some puzzle solving and a little action-adventure thrown in too.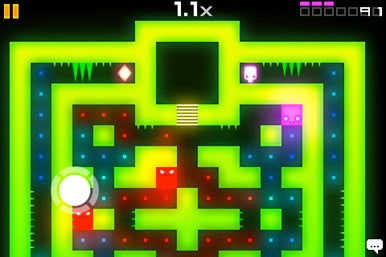 EVAC consists of 24 mazes in which you maneuver your pink square to the exit using a simple four-direction keypad. To reveal the exit, you'll have to collect all of the colors, little dots scattered throughout the pathways. The evil Shadowbox will taunt you throughout and send his red squares to prevent your from escaping. As you progress through the mazes, you'll learn about new "elements," which are powers that may or may not help you escape. Some will help you, like shock power to zap the red squares, and others will hurt— such as spikes that temporarily block passages. A friendly character named Cratos will teach you about these items and give you other helpful advice throughout the game.
While the graphics are bold and colorful, they are basically blocks of different sizes. In this game most of the attention was paid to the level design to make progressively more difficult while providing variation. The electronic music and sound effects complement the game providing a retro 80s atmosphere. There is an online scoreboard, but no other social networking is integrated. 24 levels may not sound like much, but they get difficult quickly providing more than enough challenge.
EVAC is a back-to-basics maze game. The simple graphics don't get in the way of the gameplay leaving the gamer to focus on solving the puzzles and escaping the mazes. Hopefully more levels are in the making. EVAC is compatible with any iPhone, iPod touch, or iPad running iOS 3.0 or later.
[James Savage is the host of the RetroMacCast a weekly podcast devoted to older Macintosh computers. EVAC reminded him of his Atari 2600 on which he cut his gaming teeth.]