In Magna Gul, the land of monsters, the throne is up for grabs. If you've got the ambition and a skillset to back it up, the role of king just might be yours for the taking. Kingdom Conquest, the new action strategy massively multiplayer online game from Sega, is immense. The game combines different elements of MMOs, like card battles and real time strategies, to make for an experience that, while complex, is incredibly unique.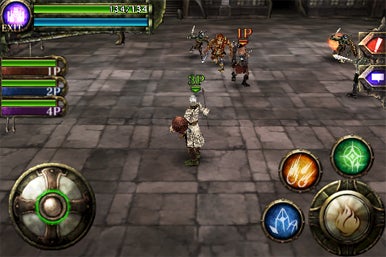 Kingdom Conquest takes players through an assortment of 3D settings. Much of the game takes place in each player's City Screen. Akin to Farmville, the popular social game for Facebook and iOS, players use the city screen to cultivate land in real time. A click to any blank space within your city's walls allows you to construct a new facility there. Facilities are used to produce resources (like food, stone, iron, or wood) and grow your monster army.
By clicking on the map icon, you can zoom out and see where your city sits in relation to the rest of the world of the game. By tapping a space near to your city, you send monsters next door to invade (and with any luck, conquer) the neighboring territory. Invasions can only be performed on adjacent spaces. The main goal of the game is to invade towers. You can win by obtaining the most towers by the end of each round (or season) of the game (four months). To help you along the way in becoming king of Magna Gul, you can make and break alliances with other players to conquer towers.
But Kingdom Conquest is more than just a city-building strategy game. In my opinion, the Action Mode is by far the best aspect of the game. By clicking on a dungeon door in the lower right corner, you are taken to a screen where you can join other players in exploring dungeons and slaying monsters. By conquering dungeons, you're able to gain access to gear and weapons that can help make your conquest of Magna Gul easier. Depending on which level you're at in the game, while in Action Mode you'll have a variety of spells and weapons at your disposal. These fight scenes offer the best graphics in the game: 3D monsters, deep stone dungeons, and smooth animation enhance the experience of fighting. These, combined with the social interaction of being able to play and chat with others, make for the most enjoyable part of Kingdom Conquest.
My biggest problem with Kingdom Conquest was how much information is squeezed onto the tiny iPhone screen. During most of the game, the tool bar is packed tight with the portal to action mode, stats, options, and a timer (to name a few). This is not to imply that the game suffers from too much activity or options, it just doesn't read as visually appealing when there's a bunch of information crammed into a small space. I think a collapsible menu would serve as a better alternative, so that the city and map screens could be more readable.
Again, the game is massive. There are thousands of towers to conquer and getting the hang of Kingdom Conquest takes some time. Luckily, there's an incredibly helpful full tutorial to explain both the story and action of the game. All in all, Kingdom Conquest has the potential to be one of the first successful MMOs for iPhone and iPod Touch. There's never a dull moment in Kingdom Conquest, as you're constantly able to choose from many activities. Being able to cultivate your own city, form alliances, trade weapons with other players, join the in-game forums, and engage in action-packed dungeon crawls makes for an epic gaming experience.
[Stephanie Kent is an editorial intern for Macworld.]