This month, Blacksmith Games joins the ranks of popular physics games with their new app Floop. The game involves shooting an array of snacks into hungry animals' mouths and, thanks to some cute characters and a compelling concept, has potential to be an addictive addition to your games queue. However, its poor navigation controls and unmemorable graphics ultimately make for a sub-par gaming experience.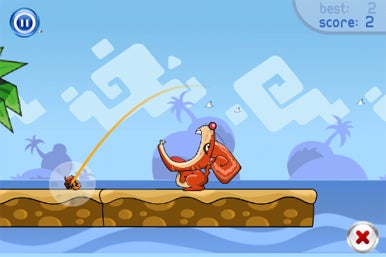 In Floop, players have the option to shoot a nut, cheese wedge, or banana into the mouth of a squirrel, mouse, or ape, respectively. The game requires a pull and aim motion to shoot (think Angry Birds), but unlike other games in this category, a missed shot doesn't mean game over. If one of the animals' snacks falls short, players simply reshoot from the new position. The goal is ultimately to feed the hungry pet in as few moves as possible. Sound simple? Think again: it takes a ton of practice to master Floop.
Visually, Floop is cartoonish and simple. There's nothing wrong with the graphics, per se, but the look of the game isn't particularly original or awe-inspiring. Floop features four themed settings that are used throughout the game's fifty levels: beach, office, supermarket, and sports field. These determine the backdrop (like ocean landscape for the beach scenes) as well as the obstacles (like piles of bowling pins and basketballs for sports) that you have to guide your snack around. Players can tap and drag to check out the scene, but this maneuver was one of the major problems with Floop. You can't zoom in or out very far, and I often found myself shooting blindly because the screen didn't encompass the entire obstacle course. What's more, the tap and drag feature (used to see other parts of the level) is sloppy and inaccurate; it constantly slides a bit farther than the point I wanted after I removed my finger from the screen.
The further a player gets in the game, the more elements are introduced to the action. Certain tools are helpful, like the variety of catapult devices used to propel the nut with. But others make the game more challenging. As you advance in the game, obstructive challenges like boxes or ice blocks are introduced. These challenges can be completed in a number of ways; this combined with the different physical properties of each of the foods being thrown makes for a high replay value in the game.
At its best, Floop's level of difficulty combined with the simple gameplay provides users with a new addictive physics challenge. Unfortunately, the game's unremarkable appearance and inability to provide clear views of each level make it difficult to recommend. For $0.99 in the App Store, Floop isn't exactly a bad purchase, but it isn't good enough to be a contender against other games of its type.
[Stephanie Kent is an editorial intern for Macworld.]