You just realized you forgot to buy holiday gifts for some of the people in your life, and there's no time to go to the store or have anything shipped without express delivery charges higher than the cost of the gift itself.
Thankfully, the digital entertainment lovers on your last-minute list aren't out of luck. Many sites now let you send e-mailed gift codes that are instantly redeemable for music, movie, or e-book downloads.
iTunes Store
Want to bestow the new iTunes Beatles Box Set on a lucky pal? Just visit the album's iTunes page, click the arrow to the right of the Buy Album button, and select Gift This Album from the pop-up menu. You can then e-mail the gift, or print it out and hand it to someone in person (note that the recipient has to redeem the gift in the same country's iTunes Store that you purchase it from). The same goes for songs (Gift This Song), movies (Gift This Movie), TV show seasons (Gift This TV Season), TV show episodes (Gift This TV Episode). audiobooks (Gift This Book), apps (Gift This App), and so on.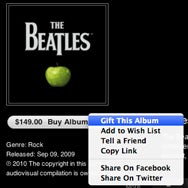 If you want to get really creative, you can give custom playlists as gifts as well. Just create a new playlist in iTunes, and drag the items you want from the iTunes Store into that playlist (you can mix and match file types, but I had trouble getting albums and movies into a playlist). When you're done, click the arrow to the right of the playlist, and you'll see a window that offers a Give Playlist button as an option. Click that and you'll get the option to e-mail or print out the gift.
Unfortunately, there's no way to send someone a specific e-book from the iBookstore. You can, however, buy an iTunes Gift Certificate and e-mail or print it out, which a person can then redeem for iTunes Store credit and use to purchase things to read in iBooks (or for anything else in the iTunes Store, App Store, or iBookstore).
Amazon e-books and music
Just in time for the holidays, Amazon recently added the ability to give Kindle e-books as gifts as well as MP3 songs and albums via e-mail. Each e-book now sports a Give As A Gift button, and MP3s have a Give Album Or Song As Gift button. (Although Amazon says that MP3 credits can be applied to any Amazon purchase, the language for Kindle e-books is slightly different: "If this title isn't available for your gift recipient, we will exchange your gift for an equivalent value Amazon.com gift card.")
You can also send a gift card suggesting a particular item but still redeemable for any Amazon item. And if you're really not sure what somebody wants, you can still give a standard Amazon gift card via e-mail, a Facebook Wall post, on paper (printed by you), or in a greeting card from Amazon with free one-day shipping. With the e-mail and Facebook options, you can purchase anytime and schedule "delivery" on a specified date.
Barnes & Noble
Is there a Nook user in your life? Then send that person a Nookbooks eGift Card via e-mail. (You can actually use an eGift Card for almost any B&N purchase in-store and online, but not for eNewspaper or eMagazine subscriptions.)
Netflix
If you need a last-minute gift for someone who likes to watch TV shows and movies, and has one of the many devices that let you stream Netflix content to a TV, then a Netflix subscription could be a great idea. Netflix recently added a streaming-only subscription for $8 a month, or you can pick one- ($10 a month), two- ($15 a month), or three DVDs ($20 a month) at a time—all gift options include unlimited Watch Instantly streaming—for one, two, three, six, or 12 months. You can print or e-mail the gift, and your recipient can start watching as soon as he or she is done setting up and authorizing a compatible device.
Streaming music subscriptions
A printed or e-mailed one-year subscription to Pandora One costs $36, and provides unlimited—and ad-free—listening and high-quality streams.
A year's WVIP membership to the Concert Vault costs $48, and comes with $50 credit to purchase classic rock concerts or memorabilia from the Bill Graham archives, as well as unlimited listening on iOS devices, support for Sonos systems, and better-quality streams.
Although big streaming services such as Napster, Rhapsody, Mog, and Rdio don't have ways to instantly send gifts to people, you can give a gift subscription to eMusic (e-mailed immediately) for three months ($27), six months ($51), or 12 months ($96).
Anything I missed? Share you last-minute ideas in the comments.
Kindle (Wi-Fi, 3rd Generation)
iPad (1st generation) Family