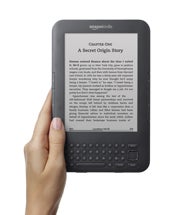 Just in time for the holidays, online book retail giant Amazon.com has quietly introduced a feature in its Kindle family of e-book reading products that allows anyone to "gift" a book.
The feature, announced by the company in a press release last week, is obviously set up for maximum ease of use; all customers have to do is visit the Kindle Store on the retailer's website, choose a book and click on the "Give as a Gift" button. Books can be given to anyone with an e-mail address, regardless of whether they have a current Amazon.com account or own a Kindle device.
According to the company, gifting is compatible with all incarnations of the Kindle service, which means that even users of software-only versions of the Kindle Reader (such as those that run on iOS devices and OS X) will be able to receive books as presents from their friends, family, and admirers.
Although Amazon has never released any sales figures for its Kindle devices, it claims that millions of people around the world have access to the service—a figure that, presumably, includes users of software-only versions of the product.
Possibly in response to increased competition from Barnes and Noble's Nook and Apple's iBooks, Amazon has been accelerating the pace at which it introduces new features in the past year. In addition to gifting, the Kindle team announced in late October that it would make periodicals available for reading on software versions of their e-reader, and that a book-lending feature would be introduced later in the year.
Kindle (Wi-Fi, 3rd Generation)