Apple on Monday will release updates to its three iWork apps for the iPad. Version 1.3 of Numbers, Keynote, and Pages add support for Monday's iOS 4.2 update.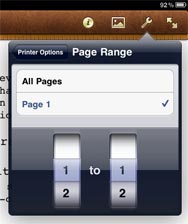 All three apps now support iOS 4.2's multitasking features, so when a user switches away from them, their state is saved, then immediately restored when the user switches back. They also now support wireless printing via AirPrint, including page- or slide-range selection, setting the number of copies, and duplex printing. The Tools menus of all the apps have been simplified, with printing placed at the top level and more esoteric settings moved into a Settings submenu.
Users of iOS 4.2 will also see an improvement in the reliability of the PDFs they export from all three apps and then send to users of Windows PCs—apparently fixing a font incompatibility in PDFs generated by earlier versions of the apps.
Perhaps the biggest single other feature addition to the suite is the addition of presenter-display support in Keynote 1.3. When an iPad is connected to an external display for presentations, Keynote will now display the current slide, the next side, or your presenter notes on the iPad's own display. (Sadly, you can't use an Apple TV and AirPlay to present wirelessly.) Keynote now also imports presenter notes when importing presentations. To create presenter notes on your iPad, choose Presenter Notes from the Settings menu and you'll enter a new mode where you can toggle back and forth between slide view and a presenter-notes view, which is basically a yellow lined sheet of paper with notes in the Chalkboard font. Apple also says that Keynote is now more reliable when importing Keynote '09 and Microsoft PowerPoint documents.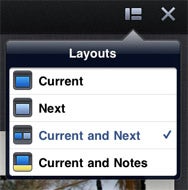 Other Numbers 1.3 features include the ability to preview how a sheet will print across multiple pages, including an Auto Fit button. Likewise, PDF exporting can now take advantage of the pagination settings available in print-preview mode. And there's now support for formula entry using a keyboard, including a predictive-function selector.
Other Pages 1.3 features include automatic pagination of tables that cross a page break. There are also several minor usability improvements, including font-size selection and bold, italic, and underline indicators in the ruler. And the new version fixes some importing bugs for Pages '09 and Microsoft Word documents.
The iWork updates will be available on Monday from the App Store. (And don't forget to check out the large screenshots below.)