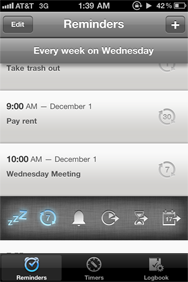 When it comes to task management, the App Store is ripe with all sorts of options for disorganized iPhone users. Due, now in version 1.2, seeks to complement more robust GTD and calendar programs by giving users a quick and easy way to add reminders and timers.
First released in September with basic task and timer support, Due's 1.2 update fleshes out the app without overcomplicating its premise. Adding a reminder is beautifully simple, requiring only a title, due date, and time. For even quicker setup, four shortcut times are listed above the traditional scrolling date wheel—titled When Awake, Lunch Time, After Work, and Before Bed, respectively—which can be customized to your liking from within the app's settings.
Once the initial reminder has been added, it pops up on the Reminders list (organized by date), where users can alter and add to it by simply tapping the entry. A Quick Panel shelf drops down below the entry, offering users the option to auto-snooze (if the reminder is missed, it will continue to beep every minute or hour, depending on the setting); repeat the reminder every day, week, or month, set a secondary alert; or quickly push back the time by ten minutes, an hour, or a day. You can also adjust the date, time, and title by tapping the edit button, then tapping the entry in question.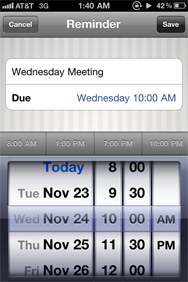 Reminders can be dismissed before their due date by tapping on the checkbox on the right side of the entry (or, if the entry repeats, on the circular repeat icon); alternatively, the app can notify you using a variety of different sounds once the task hits its predetermined due date. Alert sounds vary in length and frequency, ranging from a momentary 2-second glass ping to 10 seconds of nautical bells (or, if you wish to go for exceptionally annoying, 30 seconds of continued watch beeping). Users can choose a different sound for the primary alert and the secondary alert (if enabled) in the app's settings. Due also offers customized badge alerts on the app icon, allowing users to select whether they'd like to see upcoming and overdue reminders, reminders due that day, overdue reminders only, or no badge on the icon at all.
A reminder will stay in the list—and even turn a lovely shade of yellow once it has passed its due date—until it has been dismissed. Once that occurs, it's transferred over to the logbook, where users can scroll through old items and even send reminders back to the list by tapping on the task's recycle icon. If you want to re-add a task, the app will automatically prompt you with a list of likely dates and times based on the original task.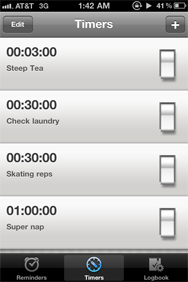 Also in Due's toolbox are custom timers, allowing you to save common tasks (like steeping tea, for example, or checking the laundry) for easy re-use. Timers by default only ring once when they come due, though users can switch on Alarm mode to force the app to ring an alert every minute until the timer has been shut off. Flip a timer on or off by tapping its switch; the numbers will begin to glow blue and count down until the item has been switched off or runs out of time.
Last but not least, the app's 1.2 update adds time-zone shifting (for travelers) and international language support for Japanese, Italian, German, and Dutch users. Due is available for $3 on the App Store, and requires an iPhone or iPod touch running iOS 4.0 or later (and despite the iPhone 3G's lack of multitasking, users with the device can still use Due thanks to local notification support).