BusyCal—the Mac-based calendar application that pitches itself as a sort of "iCal Pro"—has been updated to sync with Apple's new MobileMe Calendar.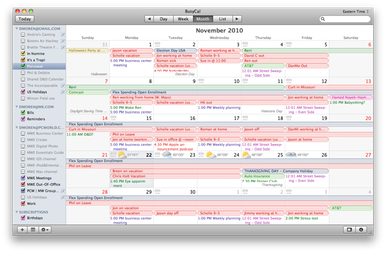 BusyMac announced the release of BusyCal 1.5 in a Friday blog post. The update adds MobileMe Calendar syncing to the program's existing range of services, which already includes syncing with iOS devices and Google Calendar. In addition, the software features including To-Do lists that display within the calendar, customizable calendar views, live weather feeds, sticky notes, and other offerings not available in Apple's iCal software.
In the blog post, BusyMac told its existing customers that they can upgrade to 1.5 without losing functionality, but that there are considerations. "Upgrading to the new MobileMe Calendar may require significant changes to your calendar sharing workflow and affect other members of your workgroup," the company warned, urging users to pay careful attention to MobileMe's documentation before making the upgrade.
BusyCal 1.5 costs $49 for a single user, but is available for a free 30-day download; the update is free to all existing BusyCal users. The application is compatible with Macs running OS X 10.5 or 10.6.