It's Monday, so you're probably sitting at your desk blearily wondering "Hey, just how satisfied are iPhone owners with their smartphones?" Market research firm ChangeWave Research has an answer for you: pretty darn satisfied.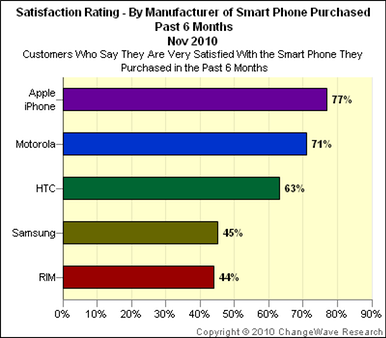 The company's latest survey talked to 1212 consumers who had purchased smartphones in the last six months and shows the iPhone leading the pack with 77 percent of purchasers ranking themselves Very Satisfied. Apple finds itself followed surprisingly closely by Motorola, with 71 percent, and HTC with 63 percent. Samsung and RIM distantly round out the pack with 45 percent and 44 percent respectively. But, as ChangeWave points out, it's worth remembering that both of those companies recently released new smartphone models which are only partially reflected in these results.
Among Apple's iPhone models, the 32GB iPhone 4 got the best results with 84 percent of owners ranking themselves as Very Satisfied, confirming ChangeWave's findings earlier this year that the iPhone 4 antenna issues did not play a decisive role in consumer satisfaction; the 16GB iPhone 4 got a slightly lower score, with only 78 percent of owners in the Very Satisfied camp. However, those numbers compare favorably to those of iPhone 3GS owners from May, which recorded 81 percent and 77 percent Very Satisfied ratings for owners of the 32GB and 16GB models respectively.
Second-place Motorola earned its highest satisfaction ratings for the Droid 2 which, at 74 percent, just eked out the top spot from the Droid X at 71 percent. Those both beat the original Motorola Droid, which earned a 69 percent Very Satisfied rating in May.
HTC's top-rated phone, the Evo 4G, actually topped the Droid 2, earning 76 percent satisfaction, and the Droid Incredible got a solid 70 percent. However, the 45 percent Very Satisfied rating for unspecified "other HTC models" dragged down the company's overall rating.
Samsung went the other way around: 55 percent of consumers who had purchased the new Galaxy S rated themselves Very Satisfied, pulling up the company's average when combined with the meager 28 percent score for all the company's other models. And BlackBerry-maker RIM made up some ground with its new Torch model, which at 64 percent beat out the company's next highest scoring unit, the Bold, by 16 percentage points.
Perhaps most interesting of all, however, was ChangeWave's question to non-AT&T subscribers about whether they would have still purchased the same phone if the iPhone had been available on their carrier. While 46 percent said they would have stuck to their guns, 34 percent said they would have gone the iPhone route. (Another 20 percent said that they didn't know.)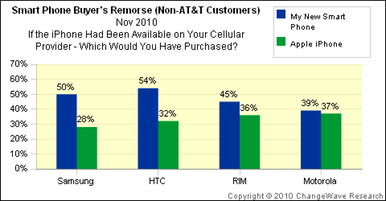 Despite its second-place ranking in those satisfaction numbers, it was Motorola that saw the most attrition among non-AT&T customers, with 37 percent saying they would have opted for the iPhone compared to the 39 percent who still would have purchased the same phone. HTC customers were the most likely to stick to their phones, with 54 percent staying compared to 32 percent switching; that 22-point spread was tied by Samsung, who saw 28 percent abandoning their phone compared to 50 percent keeping the model they bought. RIM found itself firmly in the middle, with 45 percent keeping their BlackBerry and 36 percent jumping ship for an iPhone.
With rumors about a deal between Apple and Verizon persistently in the air, ChangeWave's numbers would seem to confirm that the iPhone is likely to pick up a big chunk of customers when it's finally available to subscribers besides AT&T's. As that's also probably the largest single segment of users who haven't bought an iPhone, the decision to expand past AT&T would clearly make good business sense for Apple.
32GB iPhone 4 (GSM, AT&T)
16GB iPhone 4 (GSM, AT&T)