An application that lets DJs orchestrate their live performances directly from their iPad has been updated with new features.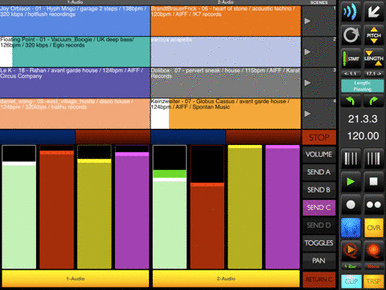 Berlin-based AppBC launched touchAble 1.1 on Friday. The application uses the iPad to give musicians, DJs, producers, and performers to remotely control and perform within Wi-Fi range of their computer-based Ableton Live digital audio workstation, as seen in the video clip below. That program lets musicians create and edit music on the fly using a range of beats, loops, and other effects.
Friday's touchAble update gives musicians a range of new options, including the ability to speed or slow the pace of a song using the new "tempo control" tool. Other features include the ability to change the height of music clips in the app, as well as track widths—letting the user better customize their control over the app and the music they make. Two additional new tools allow users better control over the fader buttons, and a button letting DJs feature a solo track in the music mix. Multitasking will also be available for iPad users running iOS 4.2.
touchAble 1.1 costs $25, and is compatible with iPads running iOS 3.2 or later.
Read more…