TiVo is working to make the iPad the ultimate companion to your TV. The company has announced the TiVo Premiere app for iPad, which will let TiVo customers browse full-screen program guides on their iPads without interrupting playback, schedule one-time recordings and Season Pass recordings while on-the-go, and control playback with simple gestures, among other things.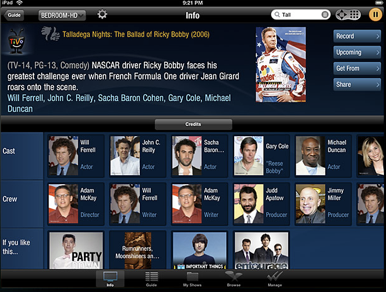 TiVo Premiere for iPad turns your iPad into a dedicated display for TiVo's user interface, letting you search, browse, explore, and share your shows without interrupting whatever is playing on your TV.
The app uses gesture-based controls to let you easily navigate TV channels, launch shows, or drag forward and back through a show with simple taps and swipes. You can also schedule and manage your DVR recordings from the iPad while on-the-go and post comments about a specific show or movie on your Twitter or Facebook page.
The TiVo Premiere App will be available for free at the App Store in the coming weeks and will require a TiVo Premiere or TiVo Premiere XL box and an existing account with TiVo.